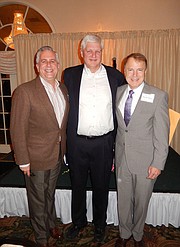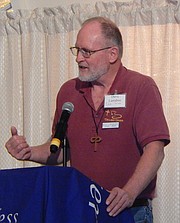 Each year, the Lamb Center in Fairfax holds a celebration banquet to acknowledge and appreciate its many blessings. This year, more than ever, it has a great deal to celebrate, and it did so last Wednesday, Oct. 12, at the Waterford in Fair Oaks.
Serving the poor and homeless for more than 20 years, it's a daytime, drop-in shelter offering hot meals, showers, laundry services, and recovery and employment counseling. The guests come from all walks of life. Many have mental illness, some are veterans and still others have simply fallen on hard times – but they're all welcome.
"The hardest part about being homeless is being ignored," said Lamb Center Executive Director John MacPherson. "But we get to know everyone by name."
The Lamb Center began in 1992 in a tiny pawn shop, moving in 2000 to a rented, 3,200-square-foot building at Fairfax Circle. But since it's open six days a week and serves about 150 people/day, it needed more space. So it started fundraising to build a larger place of its own. The dream eventually became reality and, in May, the Lamb Center moved into its new, two-story, nearly 10,000-square-foot home at 3160 Campbell Drive.
AT LAST WEEK'S BANQUET, Fairfax City Councilman David Meyer gave the opening remarks. "The elected leadership and professional staff of our City are deeply and unanimously committed to the mission of the Lamb Center," he said. "We dedicate ourselves to be full partners with you in helping to change lives and offer new possibilities for the least among us in our community.
"To be advocates for the poor and those who are marginalized, ignored, exploited or forgotten is not an easy road to travel," he continued. "When Martyn Mimms first led the Truro congregation to establish the Lamb Center, everyone involved was a learning disciple. But the commitment was there; and as this ministry grew in size and scope, a deeper spiritual understanding took root among those early, faithful volunteers and staff. And over the years, the ministry became more focused, effective and far more ecumenical."
Then when the building campaign was underway, said Meyer, "Extraordinary generosity, beyond expectation and measure, affirmed that what's occurring at the Lamb Center is vitally important for our future as a community." Noting the Feb. 13 beam-signing ceremony at the construction site, he said center volunteers wrote on the steel beams Scripture passages and the names of people who'd died.
"Those inscribed passages serve as the spiritual cornerstones for the Lamb Center's ministry," said Meyer. "That day was also a time to remember the early, long-serving volunteers, including Jim Conklin Sr., John Petersen and Vic and Joan Meyer. And while those passages and names are now covered up behind the walls, they provide the ministry with continuing, spiritual nourishment."
Today the Lamb Center is supported by volunteers from a variety of churches, synagogues and other community organizations. "It's an example of what can be achieved when differences are set aside, a spirit of unity is embraced and we all work together," said Councilman Meyer. "The Lamb Center is a model for the entire nation."
He then thanked everyone who's supported the center, encouraged them to continue and presented a $5,500 check from his own church, Fairfax United Methodist.
Next, Lamb Center Board Chairman Kelly Johnson spoke of the momentous things that happened to the center over the past year, from the new facility's groundbreaking in October 2015 to its official grand opening in June. On that day, $500,000 was still needed to pay off the $4.5 million building cost. But at the end of that event, an anonymous couple pledged the remaining amount.
Still, the Lamb Center always needs funds to continuing providing for its guests. So during the banquet, Johnson said, "Tonight is all about the programs we want to put in place for our guests. We're now supported by over 100 churches, and we give you all our heartfelt thanks."
Noting how their volunteers stay for years, she added, "I've done the Tuesday afternoon Bible study since 2008, and I'm still considered the new Tuesday volunteer. She then thanked the center's sponsors, volunteers, staff and building committee for all their hard work.
Dave Larrabee, the center's operations director, said the guests feel comfortable at the Lamb Center. "The power of community takes away the scariness of being in a new place," he said.
Agreeing, Stephanie Carl, a homeless-outreach social worker with the Department of Veterans Affairs, called it a "safe, warm and welcoming environment for veterans seeking help. They can sign up for many different services, all under one roof."
For example, she said, "One veteran came there for fresh clothes and to do his laundry and we were able to connect him to Veterans Administration representatives. The Lamb Center is a place where hope is restored; people come for small things and leave with a miracle."
Tara Ruszkowski is a Board member, but volunteers in the kitchen on Wednesdays.
QUOTING former Board Chairman Mary Petersen, she said, "'It's doing, not preaching, that brings people together.' My son Jack volunteered here with his Confirmation class in eighth grade and said, 'This place is amazing; these people are just like us.' So I visited and became a volunteer, and now Wednesdays are the highlight of my week."
"The community of our volunteers, guests and staff keeps us together at the Lamb Center," continued Ruszkowski. "And that's often what's missing in the lives of the homeless. Our guests have names and aren't invisible; they come with stories of brokenness, not just hope. And if we're going to do something about homelessness, we've got to do it together."
"Our volunteers touch the lives of so many people and discover they're blessed by being there," added Larrabee. He then thanked God "for what You are doing in this community, the generosity of this community and the transformation we've seen in the lives of ourselves and our guests."