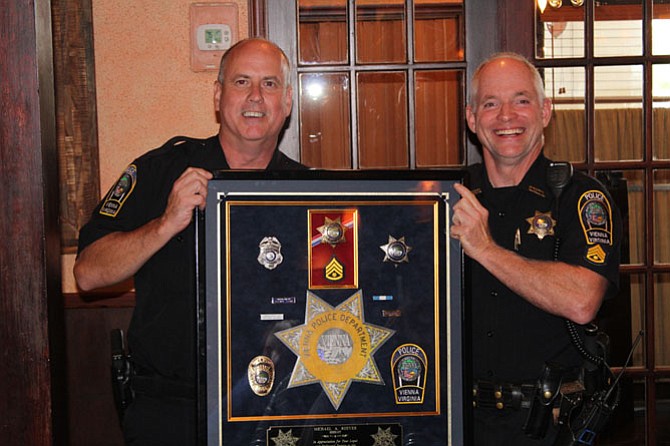 On Sept. 15, 2016 a reception was held at the Maplewood Grill in honor of Sergeant Michael Reeves who retired on Oct. 1, after more than 29 years of dedicated service with the Town of Vienna Police Department. Sergeant Reeves started his career with the Town of Vienna Police Department in March of 1987. After his graduation from the 6th Session of the Fairfax County Criminal Justice Academy, he was assigned to the Patrol Division.
In 1991 he was promoted to the rank of Sergeant where he gained the respect as a leader and mentor from rookie and veteran officers alike. In September of 1993, Sergeant Reeves transferred to the Narcotics Task Force. In September of 1997 he returned to the Patrol Division and by June of 2006 he was transferred to supervise the Traffic Division. He would conclude his career returning to the Patrol Division supervising a patrol squad in January of 2016. Sergeant Reeves graduated from Corcoran School of Art in 1984 with a Degree in Fine Arts.
Reeves was also the recipient of the Valor Award in 2006, Vienna Police Officer of the Year in 2008 and received several honor guard recognitions. Sgt. Reeves sense of humor and dedication to his daily physical fitness training will be missed by all who had the opportunity to work with him during those 30 years.