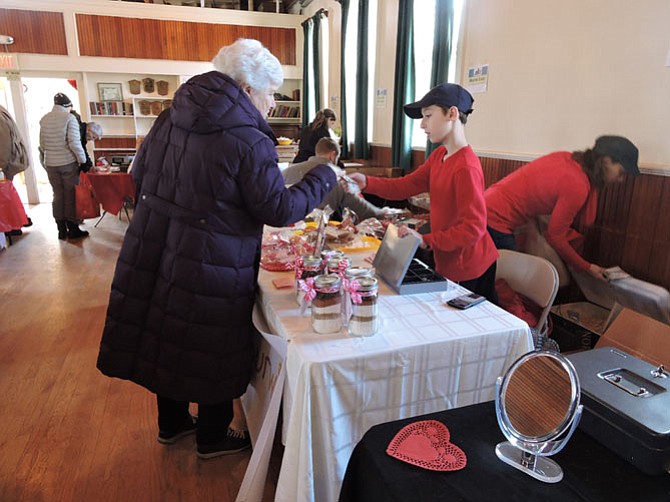 Every so often a youngster finds his passion in life, long before adulthood captures his time and energy. That is the case with 14-year-old Steven Kurtz, who has garnered a reputation as an accomplished baker in the Great Falls community. What makes his success so remarkable is that Steven is on the autism spectrum, and has for much of his young life found socializing in the community or at school challenging. But the kitchen is his comfort zone and an ideal setting to develop his talents.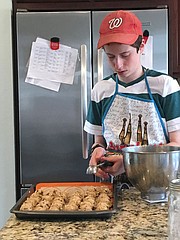 Diagnosed as being on the autism spectrum at the age of two, Steven may have found many social situations uncomfortable, his mother Susan Kurtz said. But when he turned 7, he asked to join his mom in the kitchen to be close to her. "We knew we were on to something," she said. "So when we saw that school was not going well, we decided to homeschool him and use his love for the kitchen to teach academics. We quickly learned that all could be factored into baking and cooking."
To educate and train Steven, his parents, therapists and homeschool teachers, developed special curriculum to teach him math, science, geography, reading, and writing. As part of his "classwork", the youngster researched and developed recipes, shopped for ingredients, and then met the homework requirement by baking weekly.
All progressed smoothly for about 6 years, but when Steven turned 13, the family decided to take his baking skills to another level by forming Whippouwill (We Whip, We Pour, We Spread Goodwill), a nonprofit bakery whose mission is to create meaningful employment for peole of all abilities. "The encouragement of our community and Steven's accomplishments inspired our family to think more strategically about the future, not only for Steven, but of other teens and adults with disabilities."
To further this mission, the family with the cooperation of the private group overseeing the Great Falls farmers' market, held a charity bake-sale and its proceeds would benefit children with disabilities. "The point was to take all his skills and learning to blend into this event: make flyers, ask friends to help, and make things he didn't like," she said. The bake sale, held at the Great Falls farmers' market, was incredibly successful at raising money." The beneficiaries? Children in a community in Brazil.
Another outcome was the public discovering the quality of Steven's baked goods. "People wanted to find his baked goods," she said. So on occasion, Steven bakes an array of cookies and muffins, handmade caramels, soft pretzels, cupcakes, and many other confections. He also prepares and packages several cookie and brownie mixes (regular and gluten-free) his customers can take home to bake All this he sells at the farmers' market. (Note: the market is located in the center of town and open every Saturday. In the wintertime, it moves indoor into The Grange.)
"This is an unusual market," said Mrs. Kurtz. "Whippourwill goes once a month or once a quarter. For example, for Father's Day, Steven made cookie cards, which were sugar cookies with a plain white icing." Customers designed them with edible markers and edible decorations on the site. Whippoorwill volunteers (including Steven's teacher, mother and brother) package them with special bags ribbon, and custom tags, she said.
How has baking impacted his life? As his mother explains, "It has given him tremendous confidence," she said. "He knows he is different than his peers, but just like the others, he knows he will pursue a career." Fulfilling a dream, Whippourwill has given Steven great confidence. It makes him really happy to see people want and pay for his goods, so that he feels embraced by the local community.
For more information, visit the website: http://www.whippourwill.org
Whippourwill Coconut Cupcakes
Cupcake:
1/2 cup butter, softened
1 cup sugar
1 egg
1 egg white
1/2 teaspoon vanilla extract
1/4 teaspoon almond extract
1 1/4 cups all-purpose flour
1/2 teaspoon baking soda
1/4 teaspoon baking powder
1/4 teaspoon sea salt
1 cup canned coconut milk
2 cups shredded unsweetened coconut
Frosting:
½ cup butter, softened
1/2 teaspoon vanilla extract
3 cups confectioners' sugar
pinch of sea salt
4 tablespoons canned coconut milk
For the Cupcakes:
Preheat the oven to 350 degrees. Grease or line muffin tins with paper liners.
In a medium bowl combine the flour, 1 cup coconut shreds, baking soda, baking powder, and salt. In a separate mixing bowl, cream the butter and sugar. Beat in the egg and egg white, one at a time. Add the vanilla and almond extract; mix well. Add the flour mixture to creamed mixture alternately with the coconut milk (batter will be thick). Fill the muffin cups with 1/4 cup of batter.
Bake at 350 degrees for 20- to 25 minutes or until a toothpick inserted near the center comes out clean. In a nonstick pan, toast the remaining one cup shredded coconut until a light golden brown, stirring frequently. Set aside to cool.
For the frosting:
Beat butter and vanilla until creamy. Add salt. Add the confectioners' sugar 1 cup at a time, alternating with the coconut milk, beating until combined. Frost cupcakes. Roll frosted cupcakes in the cooled toasted coconut! Enjoy!
Q&A: Steven Kurtz about His Baking
Q: What is your favorite part about baking?
A: My favorite part of baking is using a rolling pin and making cookies.
Q:How many hours a week do you bake?
A: I bake for 1 hour a day.
Q: What is your favorite recipe?
A: My favorite thing to make is chocolate chip cookies.