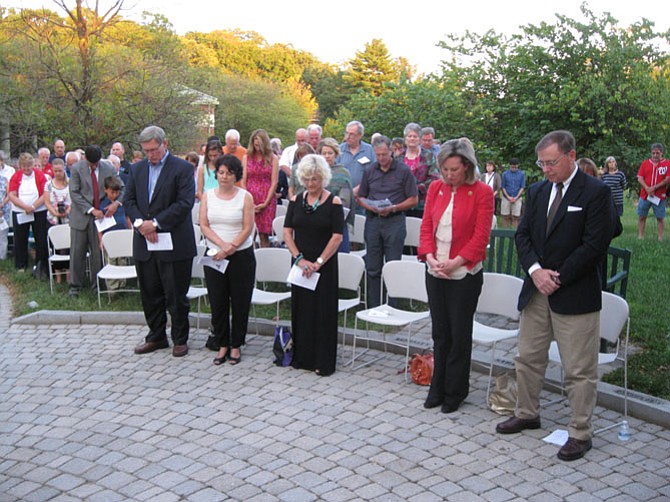 See more memorial ceremony photos on Facebook.
On the 15th anniversary of Sept. 11, 2001, the annual 9-11 Memorial Ceremony was held at the Great Falls Freedom Memorial behind the Great Falls Library on Georgetown Pike on Sunday, Sept. 11.
The memorial was built in 2004 to honor these six Great Falls residents who perished when Flight 77 crashed into the Pentagon: 1st Lt. Richard P. Gabriel, USMC Retired; Ann C. Judge; Barbara K. Olson; Lisa J. Raines; Diane M. Simmons and George W. Simmons.
The candle-lighting ceremony was organized by Andy Wilson, President of the Friends of the Great Falls Freedom Memorial. It included an Invocation and Benediction by the Rev. Eva Steege of Christ the King Lutheran Church; music by Linda Sill, the Pledge of Allegiance and raising of the flags by members of Boy Scout Troop 55 of Great Falls; and Keynote Speaker Chuck Rosenberg, Acting Director of the Drug Enforcement Administration. Wilson also read the names of the six Great Falls residents who perished on that day, accompanied by bell ringer Sara Hilgartner.
Recalling that day 15 years ago, Andy Wilson said: "I thought the world was coming to an end. It was very scary times. The events that day started a war that 15 years later we're still involved in. We're here to remember the nearly 3,000 people who died on 9-11 and those Great Falls residents who also died."
Keynote Speaker Chuck Rosenberg said in 2001, for most Americans, terrorism was something very abstract and very distant. "It existed, but it wasn't something in our conscience," he said.
He talked about United Airlines Flight 93 in Somerset, Pa., when at 9:57 a.m., the brave passengers voted and took it upon themselves, to try to wrest control of that plane from the hijackers.
"We know that a very ordinary group of men and women did an extraordinary thing, and at the cost of their own lives, they forced that plane down," he said. "Every man and woman on that flight was a hero; they may have taken different roles but they acted in concert to save hundreds and perhaps thousands of lives at the U.S. Capitol."
Honored guests in attendance included: U.S. Rep. Barbara Comstock (R-10), State Sen. Barbara Favola (D-31); Dranesville District Supervisor John Foust; Lt. Governor of Virginia Ralph Northam and a few first responders.
Singer Linda Sill of Sterling, led in the singing of the "The National Anthem," "Amazing Grace," "God Bless America" and "America the Beautiful."