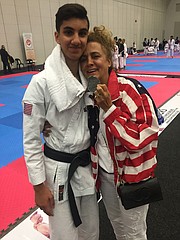 Omeed Mossadeghi of Great Falls, a Langley High student, Mossadeghi, has recently returned from third Annual International Shotokan Karate Federation (ISKF) Tournament in Cape Town, South Africa 2016. He represented team USA. There were 30 countries that came to compete and Mossadeghi competed in 16-17 age group. He won the silver medal in sparring and came home as a world champion.
Mossadeghi advanced through many levels of karate, achieving his 2nd degree black belt in 2013. After that accomplishment, Mossadeghi began to participate in tournaments. He has participated all along the east coast, traveling to numerous cities including New York, Philadelphia, and Williamsburg. "When I first started doing tournaments, I was nervous, but now I don't get nervous anymore," said Mossadeghi.
Mossadeghi advanced to the competition in South Africa after winning the gold medal in sparring for the 14-17 age group at age 15 at the ISKF East Coast Tournament. The competition was held in Chester City, Pa. and it was the second consecutive year Mossadeghi won the ISKF East Coast Regional title. "Omeed is always calm and friendly, but it's interesting to watch his whole persona change as he enters the ring," said his mother, Sholeh Shirazi Mossadeghi. Omeed has been participating in karate since he was six years old. Ever since he saw the flyers advertising the sport in an athletic center, he knew that karate was the sport for him, and joined the Fairfax Shotokan Karate Club. "It used to just be a hobby, but now it's more of a sport; almost like a lifestyle," he reflected.
Mossadeghi attributes his success to his sensei, Mohammad Gharavi, his mentor, Pedram Rastegar and his mother's dedication for taking him to class for the past 10 years.

Mossadeghi trains rigorously three times a week at his dojo. Not only does he train under his sensei and work hard to perfect his own skill, but he also helps train the younger generation of students, acting as Gharavi's assistant.
Mossadeghi has learned many life skills from karate. "Karate is very disciplined so when I need discipline that comes in handy," he says - as reported by Benjamin Howlett, "Saxon Scope."