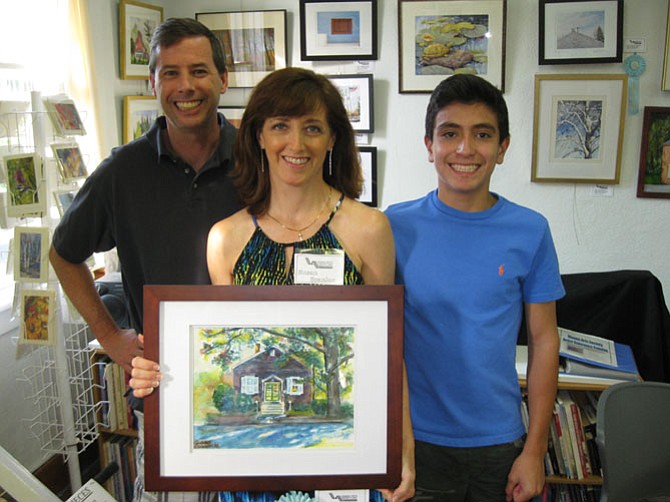 See more art show photos on Facebook.
In an art show that featured 69 pieces in acrylics, oils, water colors, photography and mixed media, the Vienna Arts Society held its "Paint the Town" reception on Saturday, Sept. 10 on Pleasant Street in Vienna. The artwork reflected local places in the Town of Vienna. With four judges from the Vienna Arts Society Advisory Board, the group gave prizes for first-, second-, and third-place, plus five honorable mentions.
"It's been a tradition to focus the show on the Town of Vienna and the region; we focus on the town once a year. The theme of this one was 'Paint the Town,' so it's stores and shops and creeks around Vienna. There were some back yards; there's even a photo of the bike shop in town," said Dore Skidmore, president of the Vienna Arts Society, Inc.
The reception included hors d'oeuvres, wine and cheese, and an awards ceremony for the winners. Every month the Vienna Arts Society has a show with a different theme. The next one in October is called "Bits and Pieces." The VAS Gallery at 513 Maple Avenue, West, in the Village Green Shopping Center, has an art show every two months that showcases an artist's work.
Winning first place was Ken Frye, watercolor, "Vienna Arts Center;" second place was Carl Landow, watercolor, "Vienna Store Fronts;" and third place was Deborah Kennedy, photo, "Spokes." Winning Honorable Mentions were: Susan Scanlon, watercolor, "Vienna Art Center;" Margaret Raymond, photo, "Winter in Vienna;" Deborah Schneider, acrylic, "Woods;" Kate Purvis Montoya, collage, "Late Bloomer;" and Joyce Myers, pastel, "Meadowlark Memory."
The judges from the Vienna Arts Society Advisory Board were Carey Sienicki, Doug Francis, Jayne Rosandich, and Laurel Gainor.