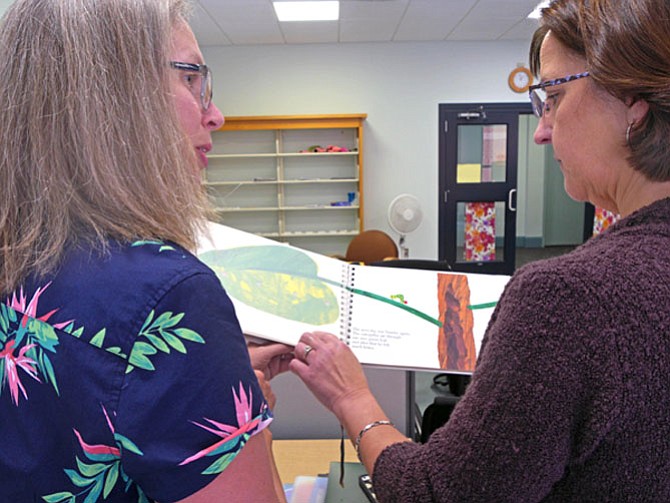 The green caterpillar inches along a tree branch toward a juicy looking leaf. The right hand page of "The Very Hungry Caterpillar" reads, "the caterpillar ate them, one nice green leaf and after that he felt much better." On the left page is a translucent overlay with raised patterns of braille dots that says the same thing. Kym Robertson, Librarian I Talking Books Service, and Christian Reynolds from the Children's Department at Charles E. Beatley Jr. Central Library on Duke Street are discussing an upcoming program on Oct. 19. It will be for children five and under and will focus on the blind.
Robertson's desk is stacked with blue cases of new audiotape arrivals: "Ebola: Fears and Facts," "Be Frank With Me" and "A Window Open." She says that there are over 12,000 items in her "library within a library" in any given month. She circulates roughly 300 check-outs and about the same number of check-ins and can have 350 downloads in a month from her clients. She has a lot fewer braille offerings.
Robertson has about 157 active patrons who have ordered at least once in the last year. This summer she sent out 24 braille books and 24 audios to a 6-year-old boy, her youngest patron. She says that a catalogue of "what's new" is sent out bimonthly with an order form. "I know what kind of books that a lot of them like." She keeps an extensive database of what is available, who currently has which specific audio books and reading preferences for the patrons. "For instance, I have a woman who is trying to catch up on the '70s and '80s books she didn't read because she was too busy raising children. I send Rex Stout detective books for her and she is reading through the M.C. Beaton mysteries.
"I'm kind of a concierge-style librarian. It's all about service." And she can't imagine not having anything to read. The phone rings. It is a patron looking for a book that her friend just read and it sounded good. "Can I get it?" Robertson continues that if there was a buzz in The Washington Post or it was mentioned in The New York Times, it will show up there. "I will search the catalogue and if I don't have it in my collection, I'll see if I can download it, and if not, I'll go to another library." She says there are about 3,000 downloads a year of their audio books. "When a new John Grisham book comes out there is the usual rush for Talking Books, just like downstairs in the regular library, but just a different format."
She says some people don't like a certain narrator and tell me they never want anything by thus and so again. "If they are having trouble hearing and missing the high tones, they don't want books by women because it is easier to hear low tones." To participate in this service a person must be certified blind or physically handicapped, unable to turn the pages for instance. This service is for patrons for whom this is their only entertainment source. "They can't see TV and they don't get these audio books until reading large print books is no longer an option for them."
Robertson explains most of the audiobooks are sent through the mail due to transportation problems encountered by the patrons. A bright blue case is sent to the patron containing the audiotape. When the material is ready to come back, the label is just reversed on the outside of the case and it is returned postage free. The Library of Congress through the National Library Services provides the materials, equipment and, "I distribute to Alexandria clients." All books, magazines, catalogs and equipment are sent through the U.S. Postal Service as "Free Matter for the Blind."
Robertson is a part-time employee working from 10 a.m.-3 p.m. on Monday, Tuesday, Thursday and Friday. Robertson adds, "I have always been an avid reader and I am comfortable in this environment. She said she had her first library job working in circulation back in Montana in the 1990s. "I had graduated in philosophy which doesn't translate into a job." Her degree, in combination with her moves every three years as a military spouse, didn't allow a real career at the time. But her husband retired and they moved back here where they had a house and in 2012 she got a library degree. "I saw an ad for this position with Talking Books and was urged to apply." She adds, "I have a very grateful clientele so this is very rewarding."