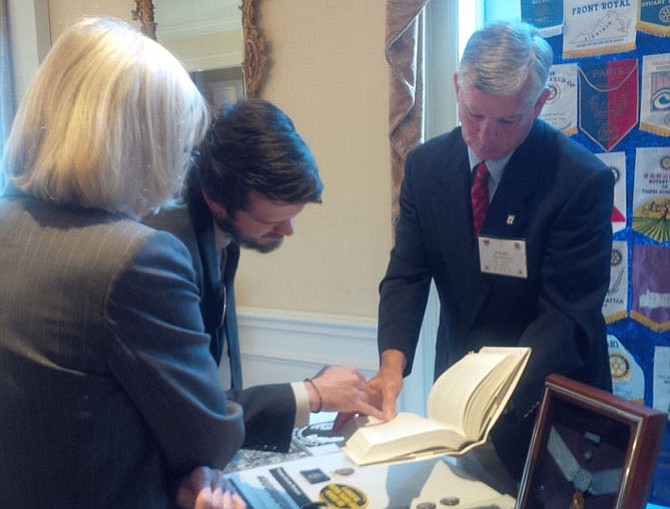 See more POW photos on Facebook.
The strains of "God Bless America" were the last words anyone would hear from Capt. Humbert "Rocky" Versace before he was executed Sept. 26, 1963, while a prisoner of war in Vietnam. Versace, whose remains have never been found, is one of six Alexandrians listed as Missing in Action from the Vietnam War.
"There are 67 soldiers from Alexandria whose names are inscribed on the Vietnam Veterans Memorial Wall," said Col. Kevin Rue (ret.), a graduate of the U.S. Military Academy at West Point and member of the Friends of Rocky Versace organization. "Six of those men, including Rocky, are still considered missing in action."
The Capt. Rocky Versace Plaza and Vietnam Veterans Memorial in Del Ray honors the sacrifice of Alexandria's Vietnam veterans and Rue highlighted the service of local MIAs during a presentation Sept. 13 to the Alexandria Rotary Club.
"National POW/MIA Recognition Day is observed the third Friday in September," said Rue. "This year's Recognition Day is Sept. 16 and we want to honor and remember the service of all of the nation's POWs and MIAs."
First observed in 1979, National POW/MIA Recognition Day is a day when the nation pauses to honor returned prisoners of war, remember those U.S. military members and civilians who remain missing from past wars and to support ongoing search efforts to find those who have not been recovered.
"Nearly 4,400 American military personnel remain missing from World War I," said Rue. "Another 73,126 are missing from WWII, 7,802 from the Korean War, 126 from the Cold War, 1,618 from the Vietnam War and six from Iraq and other wars."
In addition to Versace, other Vietnam MIAs from Alexandria include SSG Douglas R. Blodgett (USA), Maj. Joseph E. Davies (USAF), Maj. Morgan J. Donahue (USAF), Lt. Leland S. McCants (USA), and SMN App. John A. Winkler (USN).
"In Virginia, there are 45 Vietnam MIAs," Rue added. "In addition to the six from Alexandria there are seven others from Fairfax County. That makes the total for Northern Virginia 13."
Rue's presentation included a display of artifacts on loan from the Rocky Versace Memorial, including a replica of Versace's Medal of Honor.
"The Friends of Rocky Versace organization is continuing to work to locate photos and other information on all of the 67 Alexandria veterans who were lost during the Vietnam War," Rue said. "Through our contact at the National League of POW/MIA Families, we were recently able to get in touch with the niece of SSG Doug Blodgett, who lives in Fairfax County with her 91-year-old widowed mom."
Information on each of Alexandria's Vietnam MIAs can be found online at the Vietnam Veterans Memorial Fund Wall of Faces website (www.vvmf.org). Rue or the Friends of Rocky Versace can be contacted at FoRV59@gmail.com.
"Rocky was just two weeks away from heading home and entering the priesthood when he was captured," Rue said. "He and the others made the ultimate sacrifice for their country. It's important to tell the story of each of these men and let their families know they will never be forgotten."