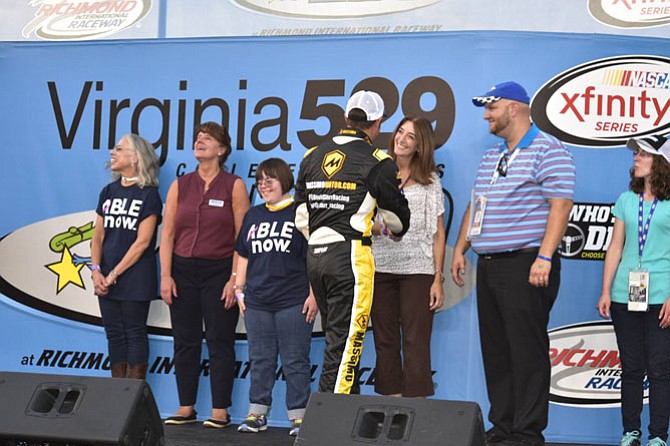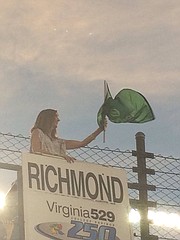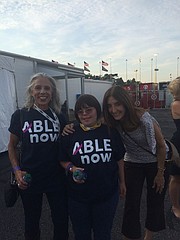 When Delegate Eileen Filler-Corn (D-41) goes to Richmond, it's usually for the General Assembly Session or various meetings of commissions or committees that she serves on throughout the year. On Friday, Sept. 9, she had the opportunity to make the roughly 100-mile trek down for a different reason: NASCAR. In fact, the 41st District of the House of Delegates was well represented at the Virginia 529 College Savings 250, with Burke residents Catherine and Natalie Beck serving as grand marshals for the race and Filler-Corn serving as its honorary starter.
Catherine and her late husband Steven were the leading voices behind the federal Achieving a Better Life Experience (ABLE) Act, which creates tax-free savings accounts for individuals with disabilities. They worked tirelessly for 8 years to pass this bill at the federal level for their daughter Natalie who has Down syndrome. Stephen passed away unexpectedly after the federal bill was signed into law, and it has since been renamed the Stephen E. Beck Achieving a Better Life Experience (ABLE) Act. Filler-Corn, for her part, worked together with the Becks, the LaGanke family and the National Down Syndrome Society to introduce and pass the Virginia ABLE Act in 2015—entrusting these accounts with Virginia 529, which is best known for being Virginia's preeminent college savings program. The following year, this group also worked together to ensure these new ABLE Accounts would be exempt from any means testing at the state level this past year. As Virginia 529 was the chief sponsor of the race on Friday, they honored Filler-Corn, the Becks as well as the LaGankes for their advocacy.
Before the race started Filler-Corn and the Becks went on stage in front of the race track to greet all of the drivers participating in the race that night. Following the pre-race festivities and recognitions, the Becks and LaGankes remained on the race track while Filler-Corn ascended the tower where she'd be waving the starting green flag. The Becks, as grand marshals then said, "Start your engines", and then they as well as the LaGankes hopped into pace cars and began their own trek around the track. After several pace car led laps, Filler-Corn waved the green flag to begin the race.
"Truly an incredible experience!" said Filler-Corn after the start of the race, "It's been a privilege to work so closely with Virginia 529 over the past few years. I so appreciate the opportunity to be included in the night's festivities."
Virginia's ABLE Accounts, known as ABLE-Now, will be available for Virginians with disabilities later this year. Those who are interested in finding out more about ABLE accounts can visit https://www.able-now.com.