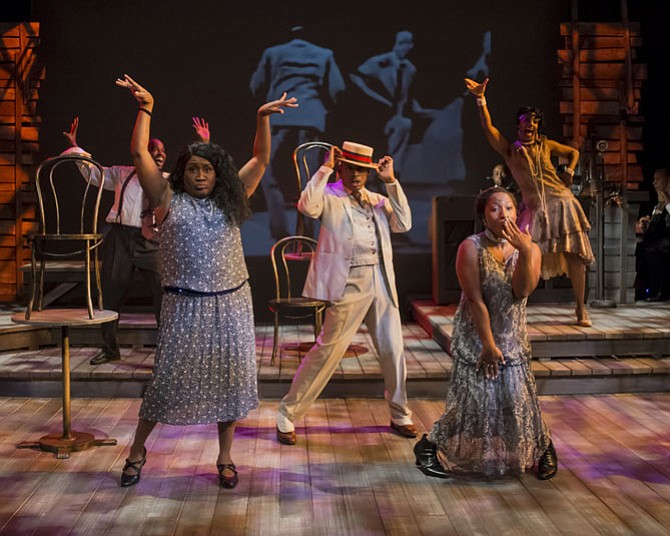 MetroStage in Alexandria is staging the world premiere musical of "Blackberry Daze" now through Oct. 9.
"We are so pleased to be able to bring the popular novel by Ruth P. Watson, Blackberry Days of Summer, to our stage," said Producing Artistic Director Carolyn Griffin. She said MetroStage regulars Thomas W. Jones II and William Knowles have written the book, lyrics and music with Watson, a Lynchburg native, that tells her compelling story with opportunities for actors to bring gospel, blues and jazz to the story and the stage.
The musical features an all-black cast of many artists who are already known to MetroStage. Set in 1919, it follows spirited characters living in rural Virginia with occasional forays into Washington, D.C., and the heart of the blues scene in Shaw where the Howard Theatre thrives today.
In this historical romantic mystery, a black womanizer is murdered for raping his stepdaughter, and even though suspects abound, no one is trying too hard to find his killer. The characters all have compelling stories to tell, interrelated lives, and face challenges that remain current today, said Griffin.
"To bring this terrific story to the stage is a gift to the readers of Watson's series and will introduce others to her popular novels," said Griffin. "On our stage, music and choreography add another dimension to the storytelling that so many follow in Watson's novels."
With much of the drama set to music, some of the songs include "Save the Sinner," "Take Me Glory," "Layin' It Down," and "Rhythm of the Blues," to name a few.
Appearing in the show is Roz White as Mae Lou, celebrating her 11th season at MetroStage; TC Carson as Herman Camm ("Bessie's Blues" and TV's "Living Single" with Queen Latifah), Ayana Reed as Carrie, and Duyen Washington as Ginny/Annie May. It also stars Nia Harris as Hester, Duane Richards II as Simon/Willie, and Yvette Spears as Pearl (who portrayed Sarah Vaughan in "Ladies Swing the Blues.") On piano is William Knowles and on guitar is David Cole.
Griffin said that buses carrying people from Atlanta, Lynchburg, Philadelphia and Baltimore have already come to the show.
MetroStage in Alexandria, a venue with 130 seats, is staging the world premiere musical of "Blackberry Daze" now through Oct. 9. Show times are Wednesdays through Saturdays at 8 p.m.; matinees on Saturdays and Sundays at 3 p.m.; and Sunday at 7 p.m. Tickets are $55 and $60. The theater is located at 1201 N Royal St., Alexandria. For tickets, call 703-548-9044