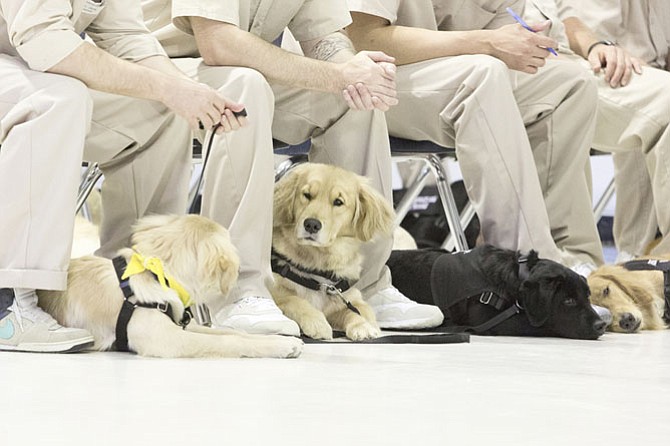 This summer, at the age of 12, I went to prison. My path to prison is not a story about a life of crime. This is a story about charity and community service. It all started in May 2015 when I helped my older brother, Steven, with a charity bake sale. Steven is on the autism spectrum and he was raising money to help children in Brazil with disabilities. This was my first experience with community service. I liked helping others and wanted to do more.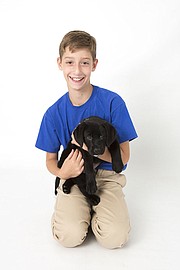 With the help of my Mom and Dad, I found new volunteer opportunities. I helped at a food pantry in Reston, volunteered at Stop Hunger Now! and packed meals for children at Forest Edge Elementary who rely on school lunch and have no food on weekends. I also helped with my brother's new non-profit bakery, Whippourwill. I got to know one of Whippourwill's customers, Joan Brady. Joan, a local photographer and Great Falls resident, does a lot of community service and asked me if I would help her with a project.
I volunteered for her "Hair In the Air" campaign which raises awareness of children in foster care who are available for adoption. When I helped her that day, Joan told me about another organization that interested me called paws4people. paws4people works with prison inmates to train service dogs for veterans and children with disabilities. This organization excited and inspired me because it combines two of my favorite things: dogs and helping people with disabilities. I decided I wanted to learn more about paws4people.

Through Joan, my Mom and I were invited to go to a prison that works with paws4people's inmate training program, paws4prisons. After a long drive to West Virginia, we arrived at a hotel where I met several client and service dog teams. The next morning we went to St. Marys Correctional Center to witness a "BUMP." A "BUMP" is when a service dog meets various clients and "selects" the person it wants to serve. Kyria Henry, the founder of paws4people, her dad, Terry, and other staff observe the interactions between the service dogs and humans and evaluate the best match.
I also got to see the special skills service dogs learn to assist their owners. The dogs are trained to pick up things for people who can't bend over, retrieve things from a refrigerator, get the nearest person in an emergency, alert the owner when someone is behind them, help the owner in public places and reduce their stress.

All of these skills are taught to the dogs by prison inmates who are called inmate trainers. The dogs live with the inmate trainers in prison 24 hours a day. The inmate trainers and dogs form an important bond. The dog provides unconditional love that many of the inmates may not have ever had. Training the dogs also provides an outlet for the inmates to do meaningful work.
During my visit, I met two people "BUMPING" with dogs, a veteran named Adam with PTSD and a girl named Ava in a wheelchair. Adam was a marine in Afghanistan in 2010. He was hit with an explosive device during his deployment and suffered a traumatic brain injury (TBI) and other physical injuries. He returned with PTS symptoms, becomes easily agitated, feels constantly on guard and has a short temper. Adam "BUMPED" with Rushmore, a huge black Labrador Retriever that will help with Adam's PTSD and help him feel safe.
Ava is 12 years old, just like I am. She was perfectly healthy and one morning everything changed. She woke with a tremor in her hand and within a few days lost all of her mobility. She is currently in a wheelchair and has limited use of her arms. Neurologists and Immunologists are working to figure out the reason for Ava's condition. She has severe anxiety which doctors believe may have come from the sudden change in her health. Ava "BUMPED" with Daphne, a Golden Retriever who will assist Ava with retrieving and carrying items for her. She will also assist with chair transfers and help with Ava's anxiety.

After my prison trip I had a better understanding of the organization and decided to devote some of my free time to paws4people. I am partnering with local businesses in Great Falls throughout the year.

COMING EVENTS: My events include a fundraiser at Mookie's BBQ on Oct. 5 and a charity ride at the Great Falls Cycle Studio on Oct. 22. Mookie's will give 10 percent of proceeds from the entire day to paws4people. Great Falls Cycle Studio is donating revenue from the event to the organization. There will be paws4people service dogs at both fundraisers. Guests will have a chance to meet and interact with them. Increasing awareness and raising money for the organization will help provide service dogs for more people like Adam and Ava. My efforts will also help the inmate trainers continue their work towards becoming better members of society. The trainers and clients both benefit and so do I. I feel great about what I am doing.
You can follow Dylan and his charity projects at https://www.facebook.com/dylandonates/