The Dr. William Brown House, considered one of Old Town's most prominent and historic homes, will be one of six homes featured Sept. 24 in the 75th annual Historic Alexandria Homes Tour benefitting the Twig Junior Auxiliary of Inova Alexandria Hospital.
"We have six unbelievable homes this year," said co-chair Elizabeth Wilmot. "The owners of these homes have generously stepped up to make our 75th anniversary tour special."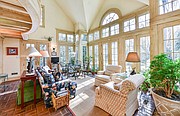 Wilmot calls the tour "a labor of love" for Twig members and has been working with co-chair Terry Fuller throughout the summer organizing the tour as well as the Diamond Jubilee fundraiser, scheduled for Sept. 23 at Jack Taylor's Alexandria Toyota.
"We couldn't do this without donors like Jack Taylor," added Wilmot. "And all proceeds from the tour and Jubilee fundraiser will go towards the Twig's $1 million pledge for renovations to Inova's Cardiovascular Intensive Care Unit."
The Dr. Brown House, located at 212 S. Lee St., is on land once owned by George Washington's brother Augustine. Brown was a close friend of Washington's and his uncle, Dr. Gustavus Brown, attended to the President during his last illness.
"There are so many great stories behind these homes," said tour committee member Roberta Stevens.
In 1969, the Dr. Brown House was purchased by Frank and Betty Wright, founders of the Wright to Read literacy nonprofit.
"The executors of Betty Wright's estate have been very generous in opening their home to the tour," Fuller said. "The Wrights were devoted to preserving the history of this home."
The Historic Alexandria Homes Tour is a self-guided walking tour and is easily navigated over several blocks in Old Town. St. Paul's Episcopal Church will be open as a rest stop on the tour, with donuts donated by Sugar Shack Donuts. The tour will take place from 10 a.m. to 3 p.m. and tickets are available online or at The Twig Thrift Shop, 106 N. Columbus St.
The Diamond Jubilee Party is also open to the public. It will be held Sept. 23 from 6-9 p.m. at Jack Taylor's Toyota, 3750 Jefferson Davis Highway. Tickets are available online.
"What you see on this tour is the evolution of Alexandria," Stevens added. "Learning the stories behind these homes you can see how the city has changed from its early years and the turn of the century."
For more information or to purchase tickets, visit www.TheTwig.org.