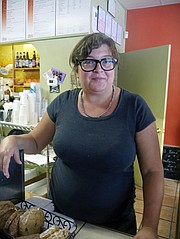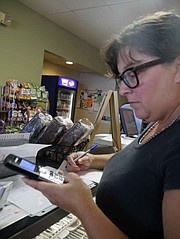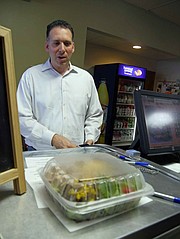 Kremena Stetanova opens the Caboose Cafe and Bakery on Mt. Vernon in Del Ray Monday and Thursday and leaves at 2:30 p.m. Other days are regular hours. "Well first I turn on the lights and make sure there is plenty of coffee. That's the biggest thing, then put out the muffins."
Stetanova says for the first hour and a half people are getting caffeinated as they are driving to work. You can't run out of coffee. "Maybe they get a muffin; chocolate chip is the favorite, or maybe an apple turnover or a bacon burrito. Almost anything you see around here we bake ourselves at night." She says sometimes the school children from the elementary school across the street grab a muffin for breakfast or something for their lunchbox or they come after school for a snack.
The door opens and Nathan Giordano walks to the counter and orders an afternoon coffee. He says he lives in Del Ray, close enough to walk, and likes to come in for the breakfast sandwich, avocado and tomato on a croissant with egg.
Stetanova says it is time to call and check her wholesale bread accounts. "They order every day." She asks, "What time did you say, 10?"
Two shelves behind the counter are stacked with multi-grain bread, baguettes, pain de campagne and sourdough. "My favorite is the ciabatta, especially the bellefonte sandwich." Stetanova says, "We deliver every morning — bread only. But the whole menu can be ordered takeout."
Stetanova was born in Bulgaria but came to America in 1999. "It was tough times." She says, "Oh I got started, I have always loved serving and making food. It is a very rewarding experience." Her uncle used to own a restaurant in Bulgaria and she worked with him in high school and through college. "Well, I really started by emptying ashtrays." Now she is a licensed food manager at the Caboose Cafe location in Del Ray.
The phone rings and Stetanova says, "I can work a little late until 4:30 but I have tickets for my children to the planetarium tonight. Did you know that T.C. Williams opens up its planetarium to the public once a month?" She says her 10-year old daughter and twin 8-year old sons are "dying to come here. Sometimes if her husband doesn't want to make breakfast they stop in to see what mommy is doing."
The menu in this Ethiopian-run family restaurant highlights vegan Ethiopian entrees followed by Ethiopian meat entrees and then a number of American standards. She says a customer favorite is the beef alitchar described as chunks of beef with carrots, potatoes and turmeric. The postman stops in to drop off a large box which turns out to be new stainless steel carafes to hold cream for the coffee. The postman is replaced at the counter by Andrew Cohen, who works up the road and estimates he has been coming here for 10 years. "Everything here is great." Today it's a southwest salad. A customer returns her plate from a table outside. "Baba chicken pita — my fav." Stetanova says, "It's pretty slow right now."
Stetanova says this is a real neighborhood restaurant. The man with the bright flowered shirt in the corner has been coming for about 23 years. He orders the soups and likes it because they make their own bread and it is a real family thing. Stetanova says, "We have the most amazing customers and most are regulars. We know them by name and what they will order. See I knew he is having the lentil soup today."