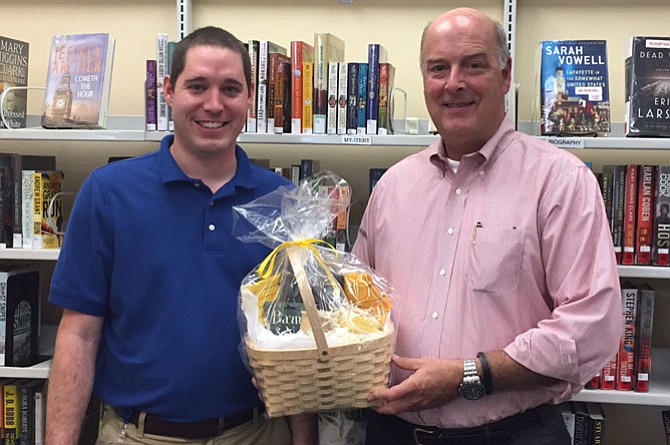 "I'm thrilled! I've never won anything my entire life!" That's what Ray Miller of Great Falls had to say when he was told that he was the lucky winner of the library's Adult Summer Reading Challenge (ASRC) grand prize gift basket. Over ten weeks this summer local residents turned in 57 ASRC reading logs and Miller was randomly chosen as the winner. The gift basket, provided by the Friends of the Great Falls Library, contains nearly $200 worth of items including a Barnes & Noble gift card, Starbucks gift card, reading themed mug, tote bag and a moleskin notebook.
Each completed reading log lists 5 books that were read by the participant this summer. Miller read "Duty & Honor" by Grant Blackwood and "Code of Conduct" by Brad Thor among others. Other books read by participants ranged from classics to brand new bestsellers, fiction and nonfiction, mysteries and thrillers, biography and romance and everything in between. Later this fall look for a display at the library containing books read and highly rated by your neighbors here in Great Falls.
This was the first year the Great Falls Library included an adult reading program to accompany the annual Summer Reading Challenge for kids and because of the positive response we plan to have it next summer as well. With that said, don't feel like you need to wait until next summer to enjoy the library.