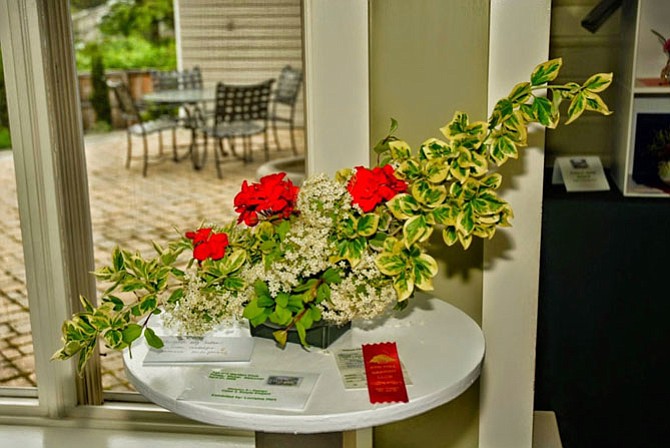 Vienna — The Ayr Hill Garden Club will meet on Monday, April 24, at Emmanuel Lutheran Church, 2589 Chain Bridge Road, Vienna. Complimentary refreshments will be provided at 12:45 p.m. followed by the 1 p.m. program. Guests are encouraged to attend. The program topic is A Practice Flower Show.
This flower show will be good practice for designing, learning how to put on a flower show, and the pleasure of knowing it can be done with no tablecloths or other prissy stuff involved. Members will bring their entries, then mingle, eat and after the business meeting, view the judged results. Flower show chair is member Marie L'Etoile, second vice president, Ayr Hill Garden Club .
Established in 1929, the Ayr Hill Garden Club's motto is civic gardening. The Club maintains six gardens of various sizes in the Town of Vienna, and has contributed to projects throughout Fairfax County over its 87 year history. Their fundraising and membership dues support their efforts in maintaining and planting six gardens in Vienna:
W&OD Trail, Maple Ave opposite Town Green

Children's Garden by the Town Caboose

Patrick Henry Library

The Historic Herb Garden @ the Little Library by Town Green

Salsbury Spring, off Lawyers Road

Emmanuel Lutheran Church Butterfly Garden
In addition, the Ayr Hill Garden Club members decorate the Freeman Store for the December Holidays and the Vienna Caboose. They provide hospice trays and May Day baskets for homebound and institutional "friends." They hold flower shows every other year.
Meetings are held on the fourth Monday of every month, except December and May, when they hold special events for members only. Guests are welcome to many of their meetings. The Club is a Charter Member of the National Capital Area Garden Clubs, Inc. since 1950 and is represented in District III.