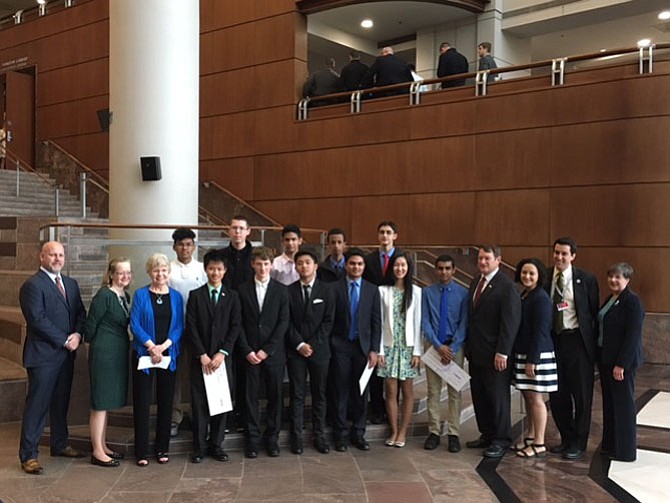 When Chantilly High School sophomore Alex Hargett went to visit family in Minnesota over Thanksgiving break, he observed his grandmother having difficulty taking the stairs, needing to move sideways to manage them. Together with classmates Khai Nguyen and Ken Catubig, they developed the Assistive Stability Bar: an apparatus with guide strings and clothesline tighteners to help senior citizens use stairs more safely and effectively.
"A large part of our community is seniors," Hargett said. "It's important to help make their last stages of life more enjoyable, comfortable. To help with independence."
The students' project was one of two that received the "Outstanding Maker" award from the Fairfax County high school student assistive technology "Shark Tank" challenge.
The other was the team of Arad Maghouli, Jareth McAlister, Omer Duale and Joshua Steffen, also from Chantilly, who produced a Motorized Walker mobility table.
The technology challenge is in its second year as an initiative out of the Fairfax County 50+ community Action Plan's technology committee.
Supervisor Pat Herrity (R-Springfield), who chairs the county's 50+ committee, said the challenge is a space "where our high school students use their STEM skills to create products and technology to help our older generation, and win advice on their products and cash prizes."
The winning teams received $1,500 from professional services firm Integrity One Partners, and advice and coaching from both Integrity and Refraction, a multidisciplinary co-working community in Reston Town Center.
Cathy Cole of the 50+ technology committee and Fairfax County commission on aging said they received 50 project proposal submissions from five schools back in December 2016. Final projects were due Feb. 7 of this year. Twenty-seven projects materialized out of the initial 50 and nine made it to the "Shark Tank" judging, which took place March 24.
Two other winning projects for Excellence in Software Development were Kane and KaneAid, developed by Thomas Jefferson High School for Science and Technology student Ishaandeep Lubana, and CarePear App, developed by Chantilly students Kaitlyn Cheng, Meriel Chang, Kartik Chugh and Pradith Santapur.
All the winning project team members were recognized at the Fairfax County Government Center on April 4 with a reception and proclamation.