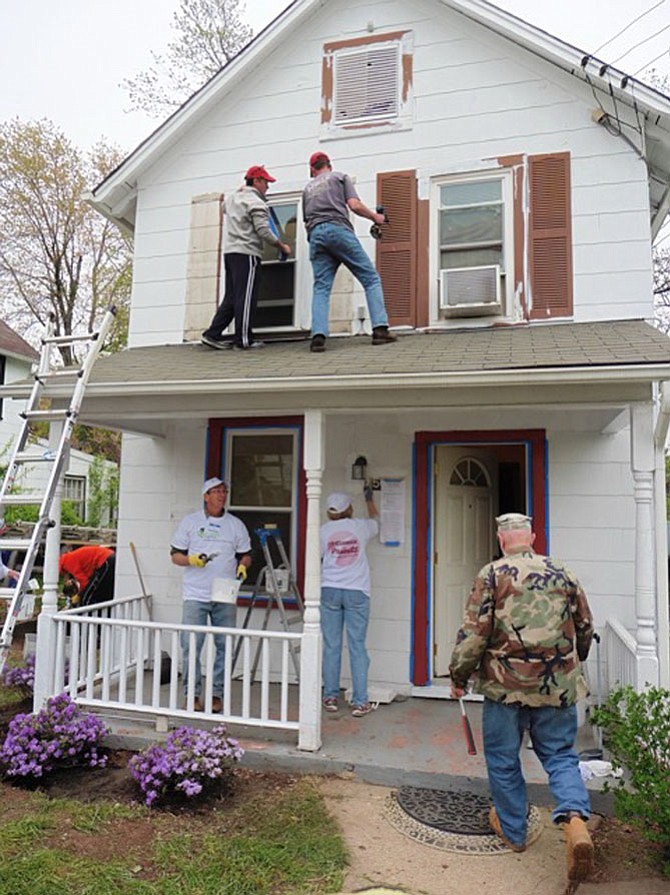 Two years ago, Cheryl Fludd's old house in Arlington was badly in need of repairs. Pipes leaked, ceilings sagged, countertops were warped, and then her heating went out.
Fludd, in her 60s, could not afford all the work needed, and she was facing major surgery. Her daughter suggested she apply for help to the local affiliate of Rebuilding Together, the national organization that helps rehabilitate the homes of low-income homeowners.
Over several days, a small army of Rebuilding Together volunteers from St. Mary's Episcopal Church made dozens of repairs and even painted the entire house and added a screen door. Fludd is still stunned by the results.
"There was a multitude of things that needed to be done," she said. "They were so responsive and friendly. I was truly blessed. They did a wonderful job."
Fludd's family goes back several generations in the neighborhood off Lee Highway known as Hall's Hill that was settled by freed slaves after the Civil War. Her grandfather once lived down the street. Now she and her daughter can stay in a home where her aunt once lived.
One goal of Rebuilding Together is to help people age in place — staying in their homes as long as possible. That's what most older people want, according to surveys by AARP, but it becomes harder for low-income residents to afford the modifications and repairs they need, including grab bars, better lighting, weather-stripping, and electrical and plumbing work.
"We are the caring neighbor next door," said Patti Klein, executive director of Rebuilding Together Arlington/Fairfax/Falls Church (RT-AFF). "Families shouldn't be forced to make tough decisions such as choosing food and medicine over home repairs. RT-AFF addresses this problem."
Since 1988, RT-AFF has worked on 2,071 projects, mobilizing 66,530 volunteers. Last year, 1,341 volunteers donated more than 12,000 hours working on 67 homes and nonprofit residential facilities.
April is National Rebuilding Month, a call to service to create safer and healthier homes across the country, culminating in National Rebuilding Day on the last Saturday of April. The event's success is the result of a year of planning, evaluating and training. Nationwide, about 40,000 volunteers will work on 1,600 projects this month.
Behind those numbers are dedicated individuals such as Tony Poole of Arlington. For more than 10 years he has organized teams of volunteers from St. Peter's Episcopal Church. He develops a rapport with the homeowner to understand their needs, and begins collecting materials and tools, recruiting volunteers and planning the work days.
His reward is the look on a resident's face after 25 to 30 people have transformed a home over a weekend. "Last year we replaced an entire kitchen that had been in terrible condition," he said. "The homeowner was in her 70s, living alone, beaten down by the enormity of her situation. You could see the relief in her eyes — she had a new lease on life."
Volunteers often say they get as much from the experience as the homeowner, and Poole emphasized that volunteers do not have to be skilled in repairs. Elbow grease is always in demand, whether it's painting, turning screws or hauling debris. Rebuilding Together offers training and technical assistance too.
Homeowners looking for help can apply at any time of the year. Priority is given to the elderly, disabled and families with children.
RT-AFF works on homes year-round and always welcomes new volunteers. To become a volunteer, make a donation, or to apply for help, call Rebuilding Together Arlington/Fairfax/Falls Church at 703-528-1999 or send an email to info@rebuildingtogether-aff.org.
For more information, go to rebuildingtogether-aff.org.
Frank Davies is an editor for the AARP Bulletin. He worked as an editor and reporter for The Miami Herald for many years.