It seems there's an elusive Easter Bunny on the loose and he has a great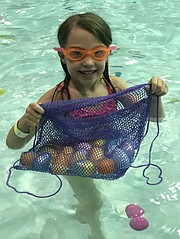 sense of humor. On Sat., April 8, lifeguards at the Herndon Community Center pool once again found hundreds of brightly colored plastic eggs left in the staff office. The eggs have appeared there regularly for the past six years, so the Community Center was prepared.
Weeks before, the Herndon Parks and Recreation Department that operates the community center and pool had opened registration for an Aqua Egg Hunt, meaning "water egg hunt". Children were invited to register for the event and join other children in their age group for an egg hunt at the indoor pool.
Before the start of the event, parents and children shared why they came. Vita Alhambra brought her son Kendal, 5. "We came this year because we did it last year and we had a blast." When asked how many eggs he'd get, Kendal said, "Twenty eggs. Maybe more."
Ryan MacMichael and his wife Huyen brought their two children, Ramsey,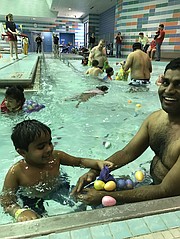 almost 5, and Rasine, 10. Huyen said that the reason they came is that they like sensory exploration experiences that combine motor skill development with curiosity. The family had never been at the community center before and had heard about the Aqua Egg Hunt through Dulles Mom's Club.
As the children and parents or guardians gathered on the pool deck, Kerstin Severin, Aquatic Service Manager Town of Herndon, explained how the event would work. There'd be two types of plastic eggs that went into the pool, ones that float and ones that sink. There would be nothing inside the eggs because food cannot be consumed in the pool or on the pool deck. Each child would receive a mesh collection bag. The child could be accompanied in the water by a parent or if needed, a lifeguard if the parent did not want to go in the water or the child needed special assistance. The kids would swim and if they wished, dive to collect as many plastic eggs as possible in the time allowed. When the time was up, the children would exchange the eggs for a goodie bag.
By late afternoon 104 children, ages two through sixteen, had participated in the event. As the last group finished, the pool opened to all participants and their families for a recreational swim until 6 p.m.
To learn more about upcoming events offered by Town of Herndon Parks and Recreation including the annual Easter Egg Hunt, scheduled rain or shine, Sat. April 15, beginning at 9:30a at 777 Lynn Street, visit www.herndon-va.gov.