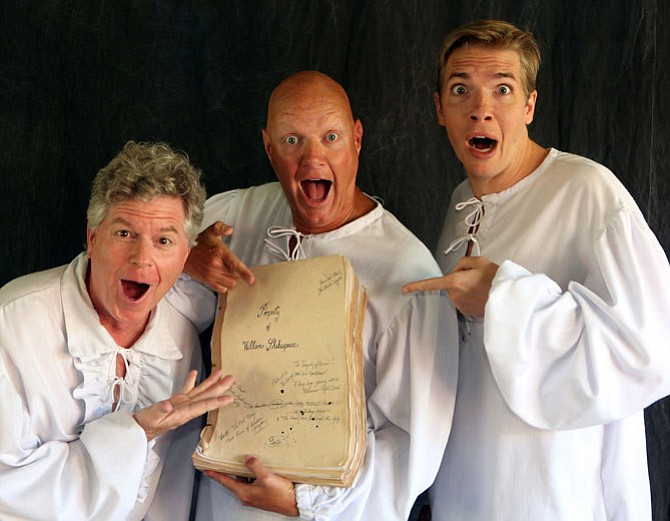 Reston — A three decade love affair between Reston and the internationally renowned Reduced Shakespeare Company (RSC) continues. The RSC returns to Reston's CenterStage with its own, very original comic work, "William Shakespeare's Long Lost First Play (abridged)."
"Reston is the RSC's home away from home. We've performed in Reston every year since 1987," said the RSC troupe of actors. "Then in 2014 Reston CenterStage produced the Reduced Shakespeare Company 'Extravaganza' in which we performed seven different RSC shows over two weeks. As a result of all this, we have a strong relationship with Reston audiences and many deep friendships with the staff of Reston CenterStage."
Written and directed by Reed Martin and Austin Tichenor, "William Shakespeare's Long Lost First Play (abridged)" is blended together bits of The Bard's works performed by three actors.

The conceit of the production is that "William Shakespeare's Long Lost First Play (abridged)" was "discovered" in a treasure-filled parking lot in Leicester, England, next to a pile of bones that didn't look particularly important. There it was, an ancient appearing manuscript supposedly written by the than 17-year-old William Shakespeare. It was his first work; long thought lost.

The comic work lifts off as the tale of an unexpected feud between two of Shakespeare's most precious, jester-like characters, the sprite Puck from "A Midsummer Night's Dream" and Ariel the spirit in "The Tempest." The dispute between Ariel and Puck leads to a wit-filled rivalry with plenty of bedlam. Many characters from other Shakespearean plays will appear and take sides. The dozens of characters are all portrayed by just three actors.
Why did the "Long Lost First Play" need to be "abridged"? In good fun, the RSC troupe indicated that the play was originally 100 hours, but was reduced in size for a 90 minute performance.
CenterStage audience can expect the RSC to break theatrical boundaries to build a personal relationship between performers and audience. At times anything can happen as the actors "talk" directly to the audience and ad lib.
The Reduced Shakespeare Company actors plan to be in the Reston CenterStage lobby after the performance to meet-and-greet the audience. The troupe put it this way; "one of the most satisfying things that happens is when folks tell us that they've had a difficult time lately and that our show has helped them feel better. Laughter is healing."
Where and When
Reduced Shakespeare Company presents "William Shakespeare's Long Lost First Play (abridged)" at Reston Community Center, CenterStage, 2310 Colts Neck Road, Hunters Woods Center, Reston. Performances, Friday, April 21, at 8 p.m. and Saturday, April 22, at 8 p.m. Tickets: Reston $25/$50 non-Reston. Call: 703-476-4500 or visit www.restoncommuni.... Note: Contains some occasional bawdy language and mild innuendo. RSC gives its show a PG rating.