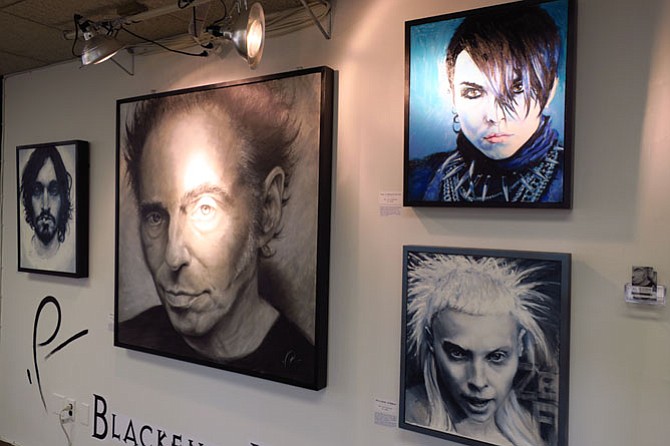 Artomatic has returned to Crystal City and is open to the public until May 6. This is the exhibition's third appearance in Arlington, and the organizers have been excited about the use of the current space at 1800 S. Bell St.
Artomatic currently occupies seven floors of a former office building. The location offers many benefits to organizers, artists, and visitors.
"Every space is different and every Artomatic is different because of that," said Veronica Szalus, who is currently serving as event director for Artomatic, alongside her co-director Wui Ping Yap. "This one has a lot of wall space. There are larger and smaller spaces. These wonderful spaces create a unique individualized experiences."
Each floor has a ring-like structure with an open central area for mingling and performances as well as numerous small spaces around the perimeter for individual exhibits.
"The small spaces allow each artist to create an immersive experience for the viewer," said Szalus.
Artomatic is a temporary exhibition based in the Washington, D.C., area that allows artists of all kinds to show their work. The events occur approximately every year or two and are always free and open to the public.
In addition to being an opportunity for the public to engage with art, Artomatic is an opportunity for artists as well.
"Artomatic is non-juried and all inclusive," Szalus said, meaning that any artist who wants to participate has the opportunity to do so. "It gives new artists a chance to get their feet wet and returning artists a chance to connect and reconnect."
Artists who want to participate pay a fee for the use of the space and are also required to help out as volunteers. This structure helps make Artomatic free to visitors.
THIS YEAR'S ARTOMATIC boasts 600 individual artist displays as well as programs and performances ranging from poetry readings to dance classes.
"There are hundreds of artists who are multi-cultural and even multi-generational," Szalus said. "We have families of artists exhibiting together, individual artists and collaborations. We have 3-D arts, mixed media, photography, installations and video experiences."
James Rambo, who has space on the 9th floor, is exhibiting at Artomatic for the third time. "It's great to be able to share the space with other artists," he said. "It's exciting to be around people doing so many different things. You can see something new every time you walk into the building."
Rambo's colored pencil illustrations depict characters from iconic films from the 1980s such as "The Monster Squad," "Legend" and "Gremlins."
"I try to imbue as much emotion into the work as I got out of the films as a kid," Rambo said.
Kent Slowinski is a first-time exhibitor at Artomatic. Slowinski has a display featuring miniature acrylic Washington Monuments lit up by color-changing diodes.
"I'm a landscape architect, not a sculptor or a painter, but this is what I do," Slowinski said.
Slowinski said he was inspired to create replicas of the Washington Monument because it symbolizes the fun he had growing up in the D.C. area going to events like the Smithsonian Kite Festival. His inspiration seems to resonate with the young people who visit his space. "Kids just gravitate towards them," Slowinski said.
VISITORS CAN EXPECT to interact with artists who are curating their displays but should make sure to chat with any of the volunteers they see, as most volunteers are also artists at the show.
Those seeking refreshment during their visit can visit the juice bar (available only on weekends) or one of three regular bars which offer alcoholic and non-alcoholic beverages as well as snacks. Be sure to ask the volunteer barista about his or her exhibit.
Each art display at Artomatic has a guestbook and the artist's information. Some have take-away goodies such as pins and stickers. Nearly all of the art at Artomatic is for sale. Those interested in purchasing a piece can contact the artist directly or ask a volunteer for help.
Visitors can interact with artists even more directly by attending the Artomatic Marketplace on Saturdays and Sundays between 12-6 p.m. on the 11th floor. At the Marketplace, artists showcase additional works which are available for direct purchase.
There will also be a "Meet the Artist" event on Saturday, April 29 between 7-11 p.m.
"You can meet hundreds of artists and talk to them about their work," Szalus said.
In addition to the art on display, Artomatic offers a variety of program events. Upcoming events include a "Women in Film" showing on Saturday, April 22 from 1-9 p.m. and a "DC Shorts" film showing the following weekend.
Visitors can also create art while visiting or attend an informative session.
"We have workshops on tie-dye, silk painting, writing and public speaking," Szalus said. "We have 'Sip and Draw' on Thursday nights and live drawing on various nights. On the Sunday after Earth Day there will be a mural painting."
Szalus encourages visitors to keep an eye on the events calendar at the Artomatic website as new events are being added all the time.
Artomatic is open every day except for Mondays and Tuesdays. While Artomatic is generally an all-age event, some displays and programs have adult themes or age restrictions. Find out more at www.artomatic.org.