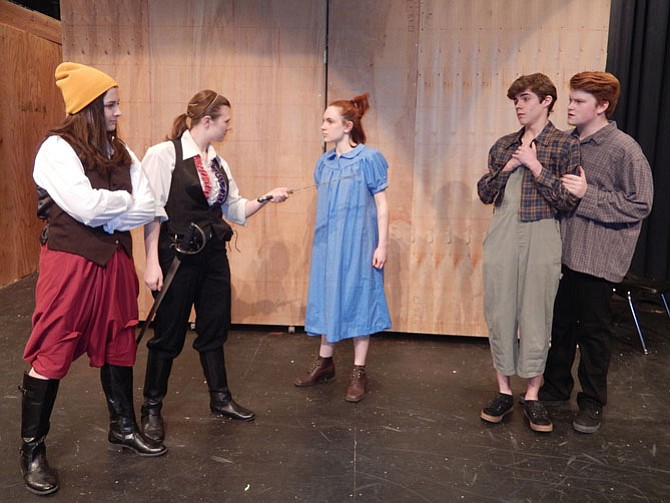 Fairfax — Most people are familiar with the story of "Peter Pan," but don't know how he became the boy who never grew up. So Woodson High is telling his prequel in its upcoming play, "Peter and the Starcatcher."
The cast and crew of nearly 100 have been rehearsing since February. This show is the school's Cappies entry and will run two weekends. The scenes take place on and around two ships, the "Neverland" and the "Wasp," and on a tropical island.
"The play is based on a novel by humorist Dave Barry," said Director Terri Hobson. "It's very clever, with witty writing and jokes; younger kids will enjoy it, but there'll also be references adults will love. The cast has a lot of creative freedom to make the acting choices for their characters, and they're doing an amazing job, as are the tech-crew members. This is a difficult show to take from concept to reality."
It takes place in 1885, but is peppered with many modern jokes. "The audience will love the connection with the familiar story," said Hobson. "And they'll learn how all the elements in 'Peter Pan' came to be, such as how Peter and Neverland got their names and how Captain Hook lost his hand."
The sound designer, junior Daniel Dorlester, set up speakers for surround sound, plus some "very engaging special effects," said Hobson. "The show requires a lot of creativity and imagination to bring this all together. My actors and tech students have done that, and I'm very proud of them."
Sophomore Kelly Ward plays an aspiring starcatcher. "There are only six in the world," she said. "They guard the 'starstuff' – a substance with magical powers that, if misused, could lead to world chaos." She's also one of the five set designers.
"We all came up with different concepts and everyone liked mine, so we expanded upon it," said Ward. "Mrs. Hobson wanted things to transform so that the audience would hear and see the actors telling the story, while the ensemble members move the set, much as you'd turn the pages of a book."
THE PLAY features two ships – and one has to split in half during a storm – so Ward decided the tech crew would build a large ship seen from its side. Its center would be on casters so it could break in two. And those two pieces also portray two different ships seen from their fronts.
"On the tropical island, Mollusk Island, there's a beach and a jungle, so we have flats on casters that fold out to reveal either the jungle or the beach," explained Ward. "And they're also the same flats that form the front of the ships, just seen from a different perspective. It's really cool to see all the working parts come together and the actors tell the story with the set in the background."
Playing Peter Pan is junior Jack Hopewell. "He's 13 and has been orphaned for almost as long as he can remember," said Hopewell. "He was abused and mistreated in the orphanage and sold into slavery on a pirate ship, so he hates grownups and never wants to grow up and become like them. He's fiercely defensive of his friends and the few people who've earned his trust."
In the story, he meets Molly Aster, the daughter of a lord who's away on a mission for the queen. Then he, Molly and two other orphan boys on their ship discover a trunkful of "starstuff." Eventually, once he's shown some affection, he opens up, earns an identity and becomes Peter Pan and a hero.
"I love this role," said Hopewell. "It's fun to play a developing and heroic character. I move around a lot, falling, flying and sword-fighting. And I like playing a 13-year-old boy who doesn't know everything, but is figuring it out and becomes a better person in the process."
He said the audience will enjoy the play's humor, plus the more serious, intimate moments between the characters. "And they'll really like the set – a lot of time and effort went into it – as well as the fight choreography and the way the show flows," said Hopewell. "They'll like the costumes, too. The orphan boys wear tattered clothing; the pirates and sailors have ruffled shirts and boots; the island natives wear cloaks, robes, seashells and palm fronds; and the mermaids have different-colored, sparkly tails."
Junior Karlee Skaggs is the understudy for Molly, the female lead. "She's 13, strong, other girls look up to her and she can hold her own against the boys," said Skaggs. "She's confident, funny and on her way to becoming a strong woman. She's more mature than boys her own age and knows just how to play her cards."
Skaggs enjoys playing Molly because she, too, is better friends with boys than girls, in real life. So, she said, "It's something I have in common with her."
REGARDING THE SHOW, Skaggs said, "The humor is unique in that lots of the jokes pull from today's pop culture. For example, they refer to modern song lyrics and movies, even though the story's set in the Victorian time period. And everybody loves and knows the tale of Peter Pan, so it'll be cool for people to hear a story they don't know about a story they do."
Playing Prentiss, an orphan, is senior Jacob Lamb. "Prentiss is part of the group of Peter, Molly and orphan Ted," said Lamb. "He's also delusional. Throughout the show, he keeps insisting he's the group's leader because he's the oldest and a boy. But he never has any ideas to help or shows any courage. In the beginning, he's snarky and rude to Peter and Ted. But later, as they bond through their explorations and adventures, Prentiss starts to appreciate them and realize they're good friends."
Lamb likes his role because Prentiss "takes himself seriously and wants to be respected, but he's also funny without realizing it and has some snappy one-liners. And it's fun playing off of Andrew Black as Ted because our characters are so different, but we go so well together."
He said many iconic elements in this show will be familiar to the audience and "It's cool to see how this story leads into the story of 'Peter Pan.' The staging is intricate because of how the set opens and closes and has different levels. It's visually appealing and will invite the audience into this magical world."
<ro>Where & When <lst>Showtimes are: Friday-Saturday, April 28-29 and May 5-6, at 7:30 p.m., plus 2 p.m. matinees on April 29 and May 6. The ASL-interpreted show is April 28. Tickets are $15, adults; $10, students; $5, senior citizens, at the door; or $10 visit wwwdramapeterandthestarcatcher.brownpa