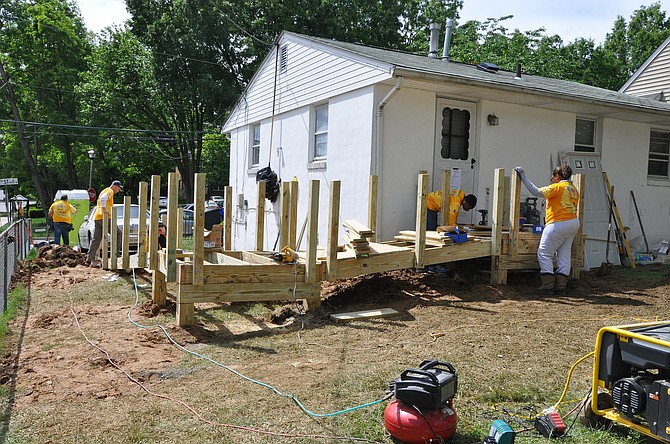 Sam Avery, in his 60s, didn't realize he was part of a national movement often called "aging in place." The North Arlington resident, whose health issues forced him to use a wheelchair, just wanted to be able to stay in his small home.
He was able to achieve that with the help of Rebuilding Together, whose volunteers repair and improve existing homes, and Sun Design, a local architectural design and remodeling firm looking for more ways to contribute to the community.
In April, volunteers installed a ramp to Avery's front door and made other repairs that improved the safety of his home and made his life more independent. "I'm able to get out of my house daily now," he said. "This has really improved the quality of my life."
National surveys by AARP show that older adults want to stay in their homes as long as possible. But that often requires modifications such as grab bars, double railings on stairs, better lighting or major work to make a home wheelchair-accessible.
"What we're seeing in Northern Virginia is that people don't want to move from the area," said Bob Gallagher, a Sun Design owner. He is doing more work on homes so that older adults don't have to move, and making modifications to the houses of younger residents so a nearby parent can move in.
Rebuilding Together Arlington/Fairfax/Falls Church (RT-AFF) has years of experience in rehabilitating homes for low-income, often elderly, residents. Gallagher said it was "good to work with Rebuilding Together — that allowed us to get a lot further than on our own."
Rebuilding Together also works with large national organizations like AARP and local groups such as the Arlington Neighborhood Village, which offers support services — rides to an appointment, simple home repairs, or just a weekly visit for companionship — so elderly residents can stay independent.
"Transportation is the biggest request we have," said Anita Wallgren, president of the Neighborhood Village. The organization does not do major house projects, but she said some of their members might qualify for Rebuilding Together help.
If you are an Arlington resident looking for advice on modifications, a couple of resources are helpful. AARP's 25-page HomeFit Guide includes a detailed room-by-room checklist of what to look for and what may need to be improved (aarp.org/livable-communities/info-2014/aarp-home-fit-guide).
"The biggest concern people have is how much will it cost," said Jane King, a community activist in Alexandria who gives HomeFit presentations. The guide categorizes some improvements as do-it-yourself (make sure carpeting on stairs is firmly attached) and others as don't-do-it-yourself (mounting grab bars in the bathroom).
The guide "helps residents determine if they are in the right place," said King. Major changes, such as widening doorways, are expensive, and some older people may decide moving to a one-story house or condo makes sense after a cost-benefit analysis.
Rebuilding Together has a one-page checklist of ways to make sure you have a healthy, safe home at rebuildingtogether-aff.org under "Events, News and Tips." One suggestion: Old carpeting, which collects mildew, mold and pet dander, can also lead to falls, so replace it with tile or laminate.
RT-AFF works on homes year-round and always welcomes new volunteers. To become a volunteer, make a donation, or to apply for help, call Rebuilding Together Arlington/Fairfax/Falls Church at 703-528-1999 or send an email to info@rebuildingtogether-aff.org.
Homeowners looking for help can apply at any time of the year. Priority is given to the elderly, disabled and families with children.
Frank Davies is an editor for the AARP Bulletin. He worked as an editor and reporter for The Miami Herald for many years.