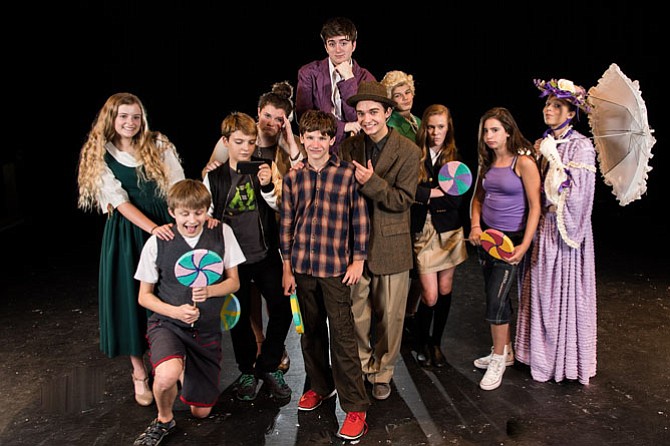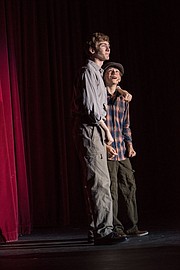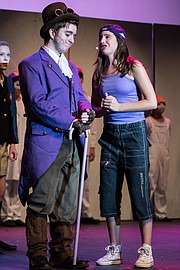 If you loved the original 1971 film, "Willy Wonka & the Chocolate Factory," and its remake 2005 movie, "Charlie and the Chocolate Factory," then you would have surely enjoyed the lively musical stage production of "Roald Dahl's Willy Wonka," with lyrics and music by Leslie Bricusse and Anthony Newley presented by Herndon High School Theatre Summer Grand 2017 Friday, July 28-Sunday, July 30. "Roald Dahl's Willy Wonka" was presented through special arrangement with Music Theatre International.
First year Herndon High School teacher, Raphael Schklowsky directed the performance. Having studied at the Moscow Art Theatre School and directed theatre and film productions in New York, Moscow, St. Petersburg, Montreal and more, Schklowsky and Music Director Sarah Milhourn, choral director at Langston Hughs Middle School in Reston, inspired the cast and crew to reach beyond their imagination.
Through Schklowsky and Milhourn's direction, the students delivered high-spirited acting with powerful voices, delighting adults and young children in the audience, apparent by the laughter and mid-scene applause.
THE ACTORS enhanced all that was right in the beloved children's book and the popular films, captivating the audience scene after scene.
Joey Rudex of Centerville played the eccentric and rather mean spirited candy man, Willy Wonka. Dressed in a lavender coat and top hat, Rudex offered an impressive and commendable performance as he tested the character of each of the four insufferable brats who each won one of the five golden tickets that granted a tour of the candy factory. Byron River, an eighth grader at Kilmer Middle School, played Mike Teevee, but a contemporary version of the character, one more interested in his iPad and gaming than taking a tour. Faith Hargadon, an eighth grader at St. Joseph's School, played the temper tantrum terror Veruca Salt, nailing it just right. Sofia Silvestri readily took on the roll of the gum-smacking Violet Beauregarde, attitudes and all, while Aiden Smith, sophomore at South Lakes High School, performed a rollicking interpretation of the obese and gluttonous, Augustus Gloop.
After the performance, Rudex summed up well the directors' creative style. Rudex said, "Mr. Schklowsky and Mrs. Milhoan gave us incredible freedom in our acting choices but were there to catch us at every moment if we weren't quite there."
William McClough of Herndon performed the role of the young and good-natured Charlie Bucket. He brought a genuine gentleness to the role. That may be because McClough was the youngest performer in the cast, a rising sixth grader. McClough delivered his lines with confidence and grace.
AFTER the Saturday evening performance, McClough said he was nervous and commented about his role. "I went into theatre when I was 9 and was obsessed. As soon as I was old enough to join the Summer Grand, I couldn't wait. I was amazed at how wonderful and fun the experience was."
Katherine Weiss, a sophomore at Herndon High School, was a member of the ensemble led by Jeremy Shoop, Pit Orchestra director.
Weiss reaffirmed the positive spirit of the musical production and shared the cast and crew's motto, "You are enough; you are more than enough; you truly don't know how enough you are." Weiss explained that being part of the musical production was more than singing and acting. It was the spirit of giving.
"We constantly picked each other up," Weiss said. "And we gave each other positivity. I have absolutely adored this experience."