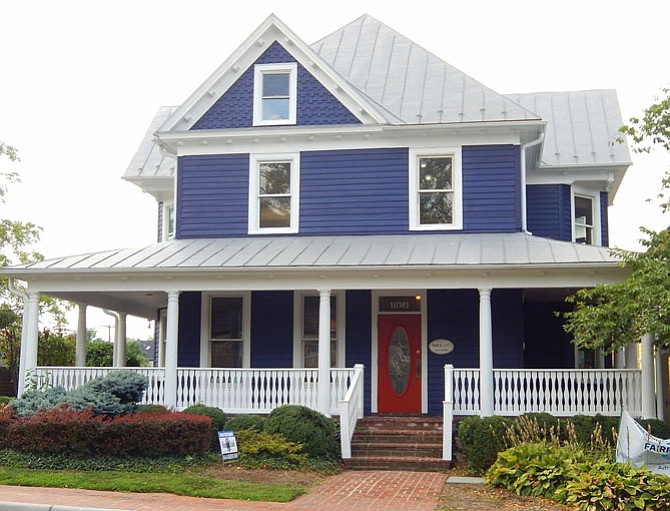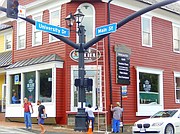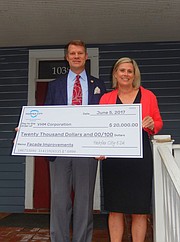 Fairfax City's Old Town area just got a lot more colorful with the exterior painting of two, formerly drab buildings. One, at 10381 Main St., is now Navy blue; and the other, to its right, is gold, red and gray to differentiate the businesses it houses.
Prior to the painting, various City officials gathered there to kick off Fairfax's Façade Improvement Program and to present a ceremonial, $20,000 check for the work. It was from the Economic Development Authority (EDA) to Marilynn Livingston of VHM Corp. which owns those properties.
"We're excited about this," said Economic Development Director Chris Bruno "This project represents an innovative, new approach toward bringing people to our downtown through revitalizing it. This section of Main Street will have a strong, visual presence in the downtown area.
"This program was started to encourage property-owner investment, and that is exactly what is happening here," he continued. "This – along with other City initiatives such as beautification projects and events run through our Parks and Recreation Department – helps highlight the benefits of locating or opening a business in our downtown. And it makes the City a more attractive place to do business and to visit."
ON THE CORNER of Main and University Drive is De Clieu Coffee & Sandwiches, now spruced up with a carriage-red paint. Another section of that building, at 4007 University, is painted dark gray and is housing a make-your-own perfume business, DIY Scent Studio.
DeClieu's building, at 10389-B Main St., was constructed in 1895 as Whiteheads Mercantile (grocery store) and Post Office. Nearly a century later, 10385, 10387 and 10389-A Main St. – now painted gold – were added to it. 10385 currently houses Comics & Gaming Fairfax, and 10389-A is home to WT Clothiers, offering custom clothing plus tailoring.
Access to the main pair of this building is via 10387. Inside are several businesses:
NoVA Tang Soo Do, a traditional Korean Martial Arts Studio; Foundation Fitness; Virginia Sports & Spine chiropractic services; STEM excel, teaching coding to children; Abundantly Fit, a Christian alternative to yoga; several law firms; Ripe Data LLC data analysis; and Capitol Media LLC, which broadcasts podcasts on site.
The free-standing, Navy blue building was constructed in 1892 and houses The Quilt Patch and MJCI Inc., a design/build company. And all these buildings together comprise the area known as Victorian Square.
"The Façade Improvement Program is a unique partnership between the EDA, City Council and our Economic Development Office [EDO]," said Councilman Jeff Greenfield. "For the first time, we are providing direct assistance to property owners for the benefit of our downtown merchants."
He said the City also replaced sidewalks and asphalt in the area. "But this isn't just about bricks and mortar," said Greenfield. "It's also about trying to improve the downtown appearance."
EDA Chairman Mary Valenta thanked City Council for supporting this project. "Improving the buildings' looks attracts businesses and shoppers and benefits the economic development of the entire City," she said. Valenta also thanked the EDA and participating business owners, as well as City Council for approving the money for this program in its FY '18 budget.
AS FOR LIVINGSTON, she said VHM Corp. is "excited about the exterior restoration and makeover of Victorian Square and appreciative of the support of this project by the City's Department of Economic Development through its new grant program.
"We wanted to brighten up these buildings and get people to notice them as they drive by, so they'll stop in. And doing multiple colors lets people know there are many businesses here providing a variety of services to the community."