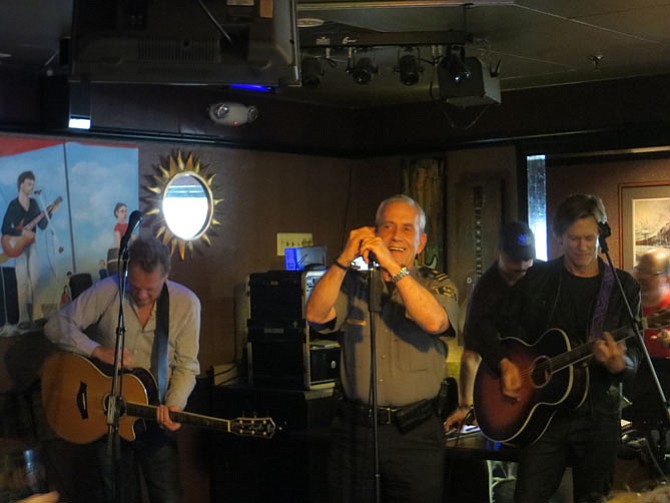 Alexandria — It was the worst kept secret in the history of the Alexandria Police Department. As soon as Chief Michael Brown took the stage in the Rock It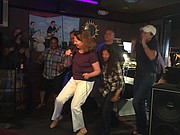 Grill, most of the chatter in the room stopped. People were already whispering about what was going to happen next. Any lingering doubts were swept away when the full '80's synth pop hit "Footloose" started up. Brown starting singing for just a couple minutes before he paused to introduce a guest.
Kevin Bacon.
Alexandria has a strange love affair with Kevin Bacon. In 2015, Kevin Bacon and his brother Michael stopped by Port City and Sugar Shack, also singing the title track from "Footloose" during his visit to the latter. The Bacon Brothers were in town over the weekend to perform at the Birchmere. The Six Degrees Organization, a group founded by Kevin Bacon to help support local causes, helped organize the event with the Rock It Grill and Nelson's Karaoke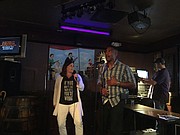 Showtime to support the Alexandria Police Foundation.
"Alexandria has been really good to us over the years," Kevin Bacon said.
Bacon left shortly after performing, but the karaoke was just getting started. Citizens and public officials alike shared beers and songs to raise money for the Police Foundation.
"I'm on a first name basis with the Alexandria Police and I respect what those guys do," said Danny Huston, who sang "Dead or Alive." Huston confessed that he had heard before the show that the Bacon brothers might be there. "I take any opportunity to support them."
Later, city leadership joined in, with Councilman Willie Bailey and attorney Kathy Puskar singing Wild Cherry's "Play that Funky Music" and Mayor Allison Silberberg singing "Twist & Shout" by the Top Notes. Each performer went around the room with a bucket collecting donations as votes for best performance. The karaoke event raised $3,400 for the COPS, Kids and K9 programs.
"The Alexandria Police Foundation is incredibly important to us," said Brown. "They do things like sponsor kids for youth camp. It gives us a chance to engage with the public and brings the community closer to the police department."