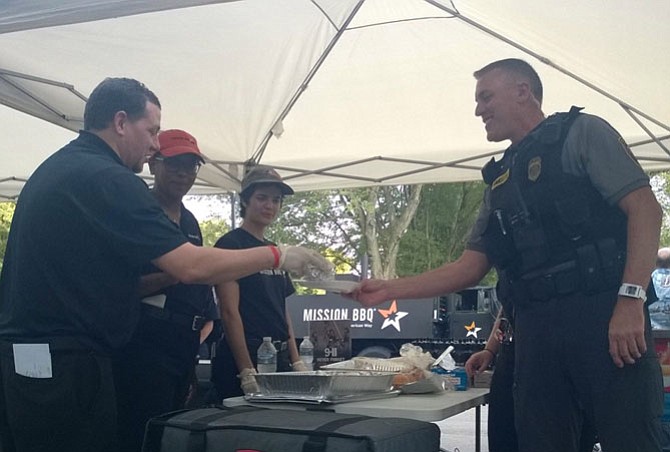 Springfield — A severe thunderstorm could not keep Howard County, Md., resident Evan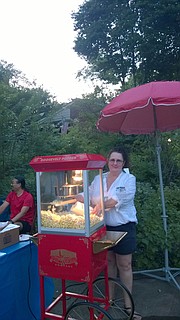 Hotto, 35, away from his mom's annual National Night Out block party in Alexandria., Aug. 1.
"I come for the free food," Hotto admits as he hugs his mother — a neighborhood watch volunteer who throws the annual National Night Out block party in her tight-knit community tucked in a corner northeast of the Springfield Interchange.
So do the residents of Bren Mar and police officers of the Franconia District Station as they enjoy a potluck supper and pulled chicken sliders from the Mission BBQ restaurant in Kingstowne.
General Manager Michael Ordonez donated more than enough barbecue sandwiches to feed nearly 80 people who attended the Bren Mar block party Tuesday evening in a cul-de-sac off Indian Run Parkway.
Since its June opening in the Landsdowne Centre at Beulah and Telegraph roads, Mission BBQ has made an effort to reach out to local first responders, Ordonez said.
National Association of Town Watch founder Matt Peskin said Tuesday this is the 34th year of National Night Out, which promotes partnerships between
communities nationwide and their local police to make their neighborhoods safer places to live.
THIS INITIATIVE started in 1984 with 400 neighborhoods and this year sees 16,000 registered communities across America. He says neighbors often meet for the first time on this particular night.
"It's an important program," says Peskin, who believes getting to know your neighbor is the crux of crime prevention.
Bren Mar residents Dottie Bolds and Alan Phillips agree.
"We keep each other advised if something's going on if not appropriate," Bolds said. She has lived in the neighborhood for 21 years. Bolds raised two children who attended school with Phillips, 39. Janice Grogin, 67, says her late mother was an original resident of Bren Mar since their family home was built in 1956. They notice many people who move to their neighborhood stay a long time.
According to its 2016 annual report, the Fairfax County Police Department has more than 1,400 law enforcement officers in a jurisdiction that boasts more than 1.1 million residents. It operates on an annual budget of more than $182 million dollars.
Franconia is one of eight district stations in the county with 125 police officers who help more than 130,000 residents in a long precinct in southeast Fairfax County, squeezed on both sides by Interstate 95 and Fort Belvoir.
FCPD spokesman Master Police Officer Don Gotthardt says community policing has evolved through the years but one thing hasn't changed: it's about establishing and maintaining relationships.
"Building trust in the community," he said, "helps the department address quality of life issues."
Although her neighborhood of more than 425 homes has no formal watch group, Bren Mar resident Sue Hotto, 68, has bridged her community with their local law enforcement agency for 15 years. She was part of the first graduating class of the Fairfax County Citizens' Police Academy.
Since her retirement from Gallaudet University, Hotto also has carved out time to serve Bren Mar as president of the Citizen's Advisory Committee — which meets the third Wednesday of each month September through June at 7 p.m. in the Franconia District Station's community room at 6121 Franconia Road in Alexandria.
Crime Prevention Unit MPO Allie Eggers says her station has a great relationship with Hotto and together they organize community donation drives during the holidays for area food banks.
Hotto's son admits when he was a teenager, he used his dad's car once to test drive his boundaries and was busted by his mother. He believes her tireless efforts as a volunteer for police service helped straighten him out.
Auxiliary Police Officer C. Velasquez expressed his hometown pride and reported Franconia had 44 block parties — more than a neighboring police district that boasted 45 National Night Out events last year.
"We beat out Mason," he exclaimed. "We're now the largest in the county."
VISIT natw.org to learn more about organizing a block party or carnival for next year's National Night Out.
For information on crime prevention and awareness, visit the FCPD website at www.fairfaxcounty.gov/police.