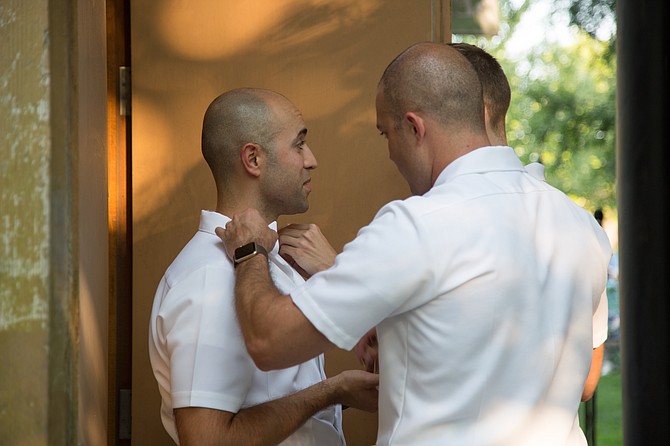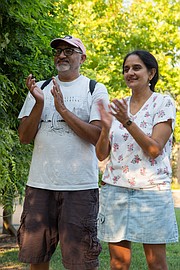 Friday nights in quiet Vienna are loud around sunset with the sound of Concerts on the Green. The music on the green at 144 Maple Ave. E. is a mixture of rock, blues, funk, dixie, and choral music.
This past Friday, attendees gathered to listen to the US Navy Sea Chanters. Starting in May, Friday's concert was the 12th on the green so far this summer. The U.S. Navy Sea Chanters are the United States Navy's official chorus. It wasn't until 1980 that women were able to sing in their ranks.
"This is the perfect way to highlight the local artists of Vienna," said Ashley Davies, 27, a Vienna resident and Parks and Recreation Department of Vienna staff. Davies is in her fifth year of working for Vienna Parks and Recreation.
Previous performers have included: U.S. Navy Commodores, jazz; Vienna Idol; Chump Change, classic rock; Hickory Grove, bluegrass; Shenandoah Run, Americana; The Richard Walton Group; Nitehawks Swing Band; Harlen Simple; and the Wayne Tympanick Quartet, jazz.
"It's very impressive. This is my first time hearing this Navy Band," said Rocky Mehta, 50, who works in technology and is a Vienna resident. "It's a nice way to spend the evening, as we live close by," said Mala Mehta, 50, a physician and Vienna resident.
Diane Howard, 65, who was at the concert with her family, commented on the U.S. Navy Sea Chanter's playing style. "I love their music and the Irish style. I'm Scottish but close enough!"
She has been coming to the concerts for about five years. "There's lovely weather and great music!" she said.
The Concerts on the Green in Vienna have been going on for about five years — rain permitting. The band choices are made by a committee including the Town Council of Vienna and the Parks and Recreation department.
"Attendance has been steady over the last five years," said Davies. "If there's rain we try to reschedule with the artists, but we've only had to reschedule once so far this summer and only if it's dangerous."