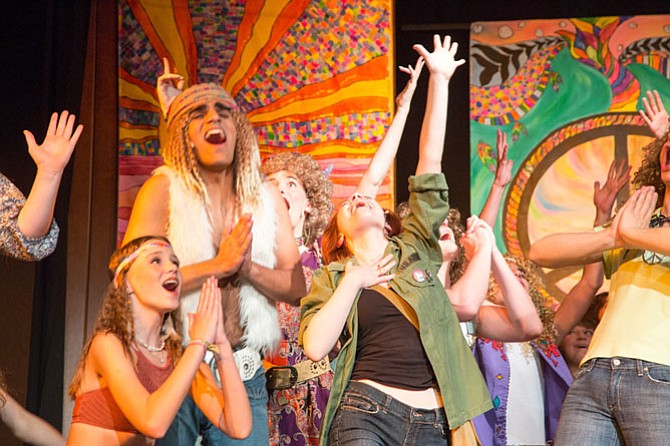 "As a child of the 60s, this struck me as a recurring theme… we had sit ins… they have occupy." — Babs Dyer, director of the Vienna Youth Players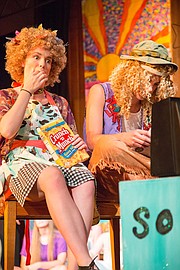 Friday, Aug. 4, was opening night of the 1960s Broadway musical, "Hair" by the Vienna Youth Players at Vienna Baptist Church. It was directed by Babs Dyer, vocal coach and piano instructor, and director of the Vienna Youth Players.

"Hair" premiered Off-Broadway at Joseph Papp's Public Theatre on Oct. 17, 1967 and ran for six weeks. After the Off-Broadway run, "Hair" played at The Cheetah nightclub where it ran for 45 performances.
The Vienna Youth Players was formed in 1993, sponsored by the Vienna Department of Parks and Recreation. They have an annual summer musical production and this year, director Dyer chose "Hair."
"I watched our high schoolers become very personally involved with the supercharged political climate. As a child of the '60s, this struck me as a recurring theme… we had sit ins… they have occupy," said Dyer.
Past shows have included "Jesus Christ Superstar," "Into the Woods," "Runaways," and "The Sound of Music." Rehearsals begin in early June and produce a five-performance run the first two weeks in August to sold-out audiences.
Neil Going, 18, a freshman at the College of William and Mary this fall and Vienna resident, helped produce the musical. "This is my eighth show with the Vienna Youth Players. Last year we did 'Jesus Christ Superstar.' We have been rehearsing since June for six weeks. Community theatre lasts for about two months over the summer," he said.
Vienna Youth Players is made up of graduated seniors and high schoolers. This summer there are 27 players in the Vienna Youth Players from Oakton, Fairfax, Vienna, Annandale and surrounding communities. "It's a great way to build and engage our community," said Going.
Jack Herrin, 19, student director and stage manager, a student at the Cap 21 Conservatory and an Oakton resident, was also excited about the production. "I have the kind of job where you mingle with people and set up," he said. "I used to perform and now that I'm in college I came back this year to help," said Herrin.

"The musical encourages youth to be active in politics, there's themes of love that are relevant today!" said Caroline Orejuela, 18, who plays the female lead of Sheila. She is attending the University of the Arts in Philadelphia, Pa. in the fall.
Upcoming show dates are Aug. 11, and 12 at 7:30 p.m. Tickets are $14 per person and can be purchased from Parks and Recreations offices at 262 Cedar Lane or by calling 703-255-6360.