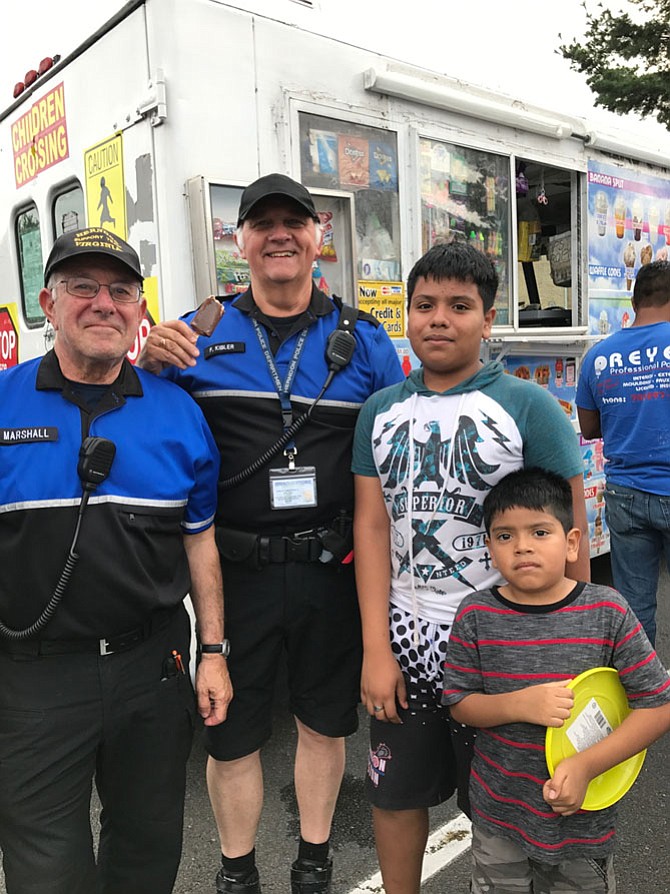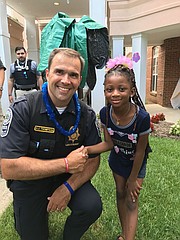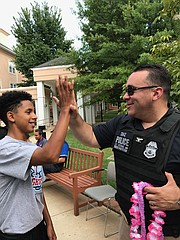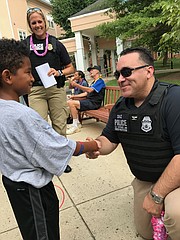 Nine-year-old Tony Rivas and his friends could hardly wait. It was 6:30 in the evening, Aug. 1 at Dulles Glen Apartments in the Town of Herndon. The boys stood in the common area of the apartment building, watching the neighborhood cookout in full swing — burgers grilling over the hot coals, smoke swirling upwards, and so much food laid out on the tables. People stood around laughing and talking, children ran to the playground. Rivas paused and listened. Were those the sirens? Were they getting closer? "They're here," someone called.
Rivas and the others at the Dulles Green picnic were part of 38 million neighbors, across 16 thousand U.S. communities from all fifty states, as well as U.S. territories, Canadian cities, and military bases worldwide, who, on the first Tuesday in August, took part in National Night Out (NNO). National Association of Town Watch introduced the campaign in 1984. According to the NNO website, the first annual National Night Out "…involved 2.5 million neighbors across 400 communities in 23 states. However, the event soon grew to a celebration beyond just front porch vigils."
The tagline for NNO is "Together, we are making communities safer, more caring places to live." The campaign promotes police-community partnerships and neighborhood camaraderie and enhances the relationship between neighbors and law enforcement bringing back a true sense of community.
During NNO, registered neighborhoods host block parties, festivals, cookouts, and various other community events, inviting law enforcement to attend. Communities wishing to participate must have registered with NATW before the event. NNO reports the campaign provides an excellent opportunity to bring police and neighbors together under positive circumstances. Herndon Town Manager, Bill Ashton concurred. "I think National Night Out helps bring the community and the police together," Ashton said. "It's also incredibly important to police morale. They love it. We love it."
THROUGHOUT THE TOWN OF HERNDON, 15 communities of neighbors, friends, and families turned on their outdoor lights, and spent the evening outside, giving crime "a go-away party." Each neighborhood hosted their event of fun and fellowship, providing a personalized opportunity that brought them and their guests in law enforcement together in a casual setting.
As in years past, officers from the Herndon Police Department (HPD), U.S. Customs and Border Patrol (CBP), and HPD's Volunteer Support Team began National Night Out by visiting Harbor House, a retirement community for active adults located in Herndon's Historic Downtown District. Kay Wells is a new resident at Herndon Harbor House; she recently moved there from Alexandria. "This is my first National Night Out," Wells said. "I'm thrilled with the police coming here. I'm a Marine Corp Veteran. We've got to come together and accept all of us."
Herndon Police Lt. Steve Thompson was one of the many officers who attended the retirement community's Hawaiian luau, sans Kalua Pork. As the officers mingled with the senior citizens and other guests, enjoying the food and camaraderie, Thompson was asked his perspective on the campaign. Thompson looked around at the seniors gathered in the courtyard. "National Night Out is important, not only for making new friendships but reaffirming those we have."
Leaving Herndon Harbor House, two motorcades visited 14 more neighborhoods throughout the town. With sirens wailing and lights flashing, the officers caravanned site to site following a timed schedule. Capt. Brad Anzergraber of the Herndon Police Department was one of the officers who took part in National Night Out. He and fellow officers visited the Dulles Glen Apartments cookout, mingling and enjoying conversations with children and adults. Anzergraber spoke about the opportunity and its unique setting. "This is important for community relations. Everybody gets to know each other in a stress-free environment."
Still, it is not just words but actions that are needed to build police-community relationships. In the casual settings, officers chatted one on one with individuals, listening to their words and sharing how to prevent crime and be proactive partners. Perhaps, the officers did more than share words, through their actions the officers showed they cared.
AT THE DULLES GREEN COOKOUT, Tony Rivas, 9, Olbin Abrego, 9, and David Aguirie, 6, edged up to Herndon Police Officer Henry Ruffin. One by one, the boys pointed to different pieces of equipment on Ruffin's police vest and asked its purpose: baton, taser, bullet pouch, handcuffs, and body camera. Ruffin bent over a little. Juggling his plate in one hand, he showed each item to the boys, telling them its name and purpose. The children were especially intrigued with handcuffs and body camera. "Everything we're saying and doing now is being recorded," Ruffin said. Finally, Ruffin put his hand in his last pocket. In it was a case of business cards. "I want one; I want one," each boy yelled. Then pocketing them, they ran off.
Rivas went to his mom. When she asked why he took it, Rivas said, "Some day, I might need his business card." Rivas' mom, Maricella Mendez raised her eyebrows. He looked straight at her. "No crimes. It goes on your record, and you don't get good job opportunities." Then Rivas was quiet for a long moment. He closed his eyes, breathed in, and held his breath. "I wanted to talk to a cop so bad," he said exhaling. "I once got to say hi, but that was all."
Herndon Town Councilmember Signe Friedrichs, as well as the other town councilmembers, attended National Night Out that ended shortly after 9 p.m. Friedrichs took the opportunity to share praise for the national campaign as well as praise for the town's local law enforcement. "National Night Out is a great way for communities and local police officers to interact when no one is under stress. It is a great way to build your neighborhood's positive relationship with our police, which makes everyone's life easier. I love how the Herndon Police Department is focused on community policing, building those relationships so that when something bad happens, they understand what is going on before they go in. And it's fun!"