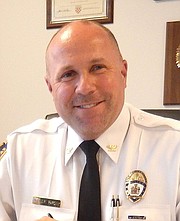 The new Fairfax City Police Firearms Training Center is closer to becoming a reality now that City Council has approved the extra money needed to design and build it. The Council members also awarded the construction contract and approved the money for the project's architectural and engineering services.
All these things were accomplished during the Council's last meeting of the summer on July 25. And thanks to partnerships with two other entities which will also use the new center, the City won't have to bear its total cost alone.
The City of Falls Church signed its partnership agreement in May. And at the July 25 meeting, Fairfax City Police Chief Carl Pardiny told the Council, "We have a draft contract from GMU in hand and are fine-tuning it. And our partnerships with GMU and Falls Church will help offset the construction and maintenance costs.
"We rely on GMU [police] to back up our officers, from time to time, and we all have to be on the same page with our training," he continued. "Falls Church [police] officers train with us, too, so we're all up to the same standard and level."
The current firearms training center for Fairfax City's Police Department was built in 1985 of cinderblock and wood. It has six firing lanes, a small classroom, a weapons-cleaning area and an office/armory. But it doesn't meet police needs for the future.
ACOUSTICAL TREATMENTS are necessary to limit hearing loss at the firing range, and the air-ventilation system limiting officers' exposure to airborne lead is about at the end of its life. Indeed, said Pardiny, "An updated air-handling system was much of the impetus for the new building."
Furthermore, two more firing lanes are needed to provide more training for live-fire drills and tactical team-movement exercises. So a new training center will be built. It'll be a one-story, 7,000-square-foot facility with an expanded footprint. There'll be a place for cleaning weapons and storing ammunition, as well as two classrooms – one to be used for simulation training with computers. A simulation system not only replicates live fire, but does so via the most modern technology.
Officers will look at moving targets, up and down tracks across the range, and can stop and turn. And the simulator training-graphics will make them feel like they're in dangerous situations in public with split-second decisions to make. In addition, having a larger simulations training room will enable more than one officer to confer on tactical decisions.
"Officers will be working on de-escalation skills and how they react to any given situation," said Pardiny. "They'll have to scan [the room], talk and take action when necessary. It's a lot better than just a target that turns."
He said construction would take some 260 calendar days and that, although the building could be used 24/7, it would mainly be used during regular or extended business hours. Pardiny also figures this new training center will last "more than 30 years, easily."
At an earlier Council meeting, designer Sergio Cappuccio, with the project's architectural firm, HGA, said the building will be on the same site as the current facility, in the City of Fairfax maintenance yard. "There's a tree buffer on three sides of the site, including Pickett Road, so you wouldn't see the firing range from the road," he said. "We're almost completely surrounded by existing buildings. The building's exterior will be concrete block, but not cinder block. It has an architectural finish that makes it look nice."
City Council previously approved $3.96 million for the firearms facility; it also received $591,000 from the state. But costs rose over time and, now, its total price tag – including design, engineering, construction management, etc. – is projected to be $5.2 million. So the City Police Department requested an additional $1,240,000 for design and construction.
However, this amount would be offset by $1.2 million from the City of Falls Church and an anticipated $1.5 million from GMU. And once the center is up and running, the operating costs will be divided proportionally between all the partners, based on the number of sworn staff and officers each has using the building.
"What's driving the additional cost increase?" asked Councilmember Michael DeMarco.
"An increase in the contingencies we have to prepare for," replied Pardiny. "We previously expected the total cost to be $4.9 million." Furthermore, City Finance Director David Hodgkins said the low construction bid came in higher than the City's original estimates.
Making the motion to approve the extra money, Councilmember Jon Stehle said, "It's exciting to see two other entities partnering with us. Well done, Chief [Pardiny]." Councilmember Jeff Greenfield seconded the motion and the Council then approved it.
THE COUNCIL also voted to award the construction contract to the project's lowest bidder, Branch & Associates, which will build the facility for $3.9 million. In addition, Council members approved a fee not to exceed $360,000 to HGA for a variety of architectural and engineering services associated with construction of the new facility. These dollars are already in the project's budget.
Pleased with the Council's actions, Pardiny said, "It's important for us to get this building enclosed before the rainy season and winter set in. And it's a hot market for builders, so we need to get them locked down as soon as possible. I believe we'll be pleased with this [construction] firm, the quality of its work and its responsiveness to the City."