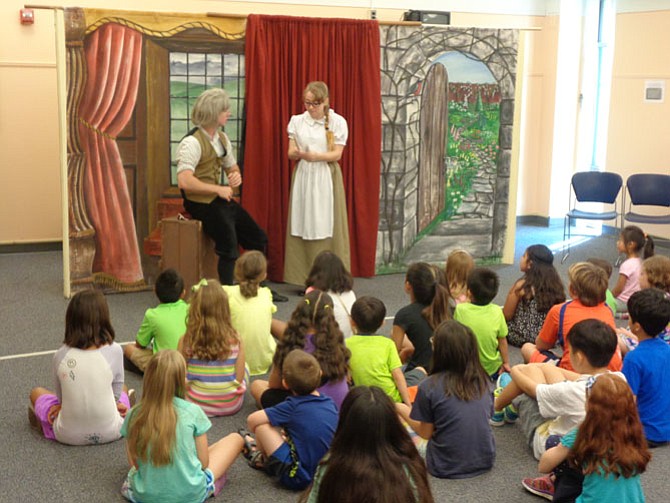 Children, parents and actors gathered in a meeting room tucked in the corner of Kings Park Library on Tuesday morning to see a live production of "Beauty and the Beast."
Although it was a small show with just two actors, it was a morning planned several months in advance. The Hampstead Stage Company agreed to perform the show last fall. For libraries all across the county, the summer is filled with events like this targeted toward children, and bringing in strong performers is imperative.
"It's really hard, but we make it work," said Ted Kavich, the Program and Educational Services Manager for Fairfax County Public Libraries. "We have a system where we just sit down and get it scheduled, but it requires as much flexibility on the part of the performers as possible. So the earlier we get to them, the better."
While Kavich is tasked with building a schedule on a county-wide scale, the Kings Park branch also organizes its own events. Since all communities across the county are different, every public library is able to distinguish itself somewhat from neighboring branches.
"We have to look at our community and see who we're serving, so we do take that in mind," Youth Services Manager Melanie Parsons said. "We do have a lot of families in this area, so we do try to have a lot of family-based programs."
The branch's calendar highlights events for family, preschool, school age, teens and adults. The county brings around 11 or 12 performers to each branch during a summer, Kavich said. Information on all public library events can be found on the county library website.
Most of this is tied in with the county-wide Summer Reading Adventure, for which students keep reading logs and a set total of books read merits a coupon booklet and a chance at other prizes. The threshold is 15 books for preschoolers through third-graders, 10 books for grades 4-6 and five books for grades 7-12.
Programs like this have been around for decades and are aimed at preventing the "summer slide," where children's learning abilities regress during their two months of break. Most local schools have their own summer reading program, but they aren't able to offer the multitude of events that libraries do from June through August.
"We want people to have fun at the library. It's not just about reading books or having their homework done here," Parsons said. "We want people to have access to books, internet, WiFi and all kinds of things like that."
Children who make reading a bigger part of their summer can earn rewards from both the library and school, but the goal on the organizers' side is to keep them interested in reading far beyond this summer and into the rest of their life.
"As librarians, we think reading is awesome, not because it's good for you but because it really is fun and enjoyable," Kavich said.