Springfield — On Aug. 1, 2017, the South Run Forest Community participated in its first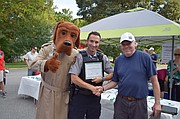 National Night Out event with an ice cream social. National Night Out is an annual event held throughout the United States and provides communities such as South Run Forest the opportunity to demonstrate their commitment to fight crime, to show neighborhood spirit, and to strengthen partnerships with local police.
South Run Forest is also teamed up with the Fairfax County Police Department through its community's Neighborhood Watch Program. This program is composed of volunteers who come together to keep an eye on their neighborhood. It also communicates that the residents are concerned about preventing crime and will call the police when suspicious activity is observed. Through this partnership with the local police, home security and personal safety awareness is enhanced as well as neighborliness by encouraging residents to get to know their neighbors and to lookout for one another.