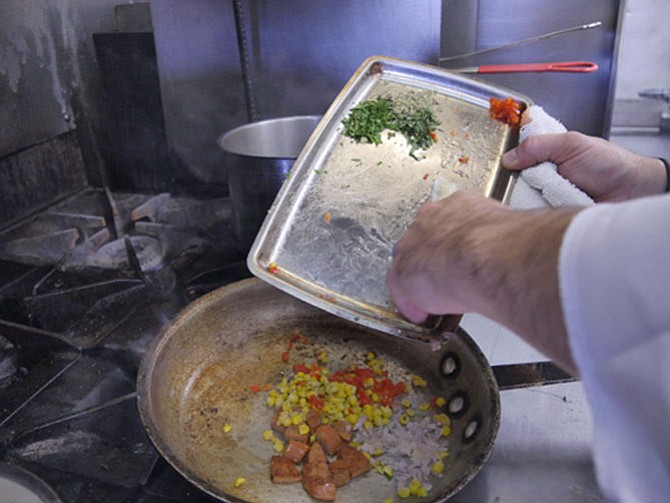 Alexandria — Justus Frank tips up the aluminum sauté pan to swirl around the mixed oil.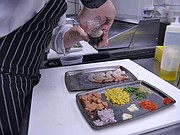 "It's 75 percent olive oil and 25 percent vegetable oil because the oils have different smoking points and the shrimp I am sautéing today would burn at high heat." Frank is making a seasonal shrimp and grits, a customer favorite. "I use corn and red peppers in this version."
Six Port of Gulf Coast shrimp, heads off, tails on, are lined up ready for a sprinkle of fine sea salt and a grind of white peppercorns. Frank slips the shrimp into the pan for a few seconds, then quickly flips them over. "See they are still translucent. If you cook them too long they get tough." He removes the shrimp from the skillet to be added back later in the final step.
Next he adds about 1.5 ounces of chopped Andouille sausage to the skillet. He says he buys the sausage from Logan's in Alexandria. "Not too crazy hot." It cooks for a minute to add a little bit of color for the sauce. Next the vegetables are added in sequence beginning with 2 Tbl. of roasted corn with 1 Tbl. roasted, chopped red pepper and 1 Tbl. finely chopped shallots. "I've still got a hot pan going.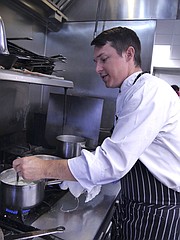 "Now I deglaze it with ginger juice which is freshly grated ginger and white wine with the ginger solids strained out. Finally the garlic slivers are added to the pan for 30 seconds. You don't want them to burn." Frank has made red fish stock from rockfish bones and shrimp shells. He dips out four ounces of fish stock and adds it to the pan along with 1 Tbl. unsalted butter. He turns the burner to low.
In goes 1 tsp. each of fresh chopped tarragon and parsley, and the shrimp go back into the pan to finish off. "In a minute it will be done." He takes a large spoon and scoops up a taste of the sauce. "To me it's good."
Frank turns to a pan of grits, which have been cooking slowly on low for 40 minutes. "I use 2 cups of whole milk to 1/2 cup of grits plus 2 Tlbs. butter for one serving. At the end I add 2 Tbl. of fresh Parmesan cheese and salt and pepper. Of course we make this in big batches with 2 gallons of milk, 8 cups of grits, 1 pound of butter and one quart of grated Parmesan." He says he buys the grits from a farm in Kentucky. He also buys his vegetables from local farmers. "The most important is the quality of the ingredients. They will shine through."
The customer favorites include fried green tomatoes and roasted peach-stuffed pork loin. "And right now we have the blueberry buckle with burnt honey ice cream." He says they listen to the customers and incorporate their feedback.His own favorite is probably the venison Carpaccio with the green tomato chow chow and sunflower sprouts. "Its a shareable appetizer and perfect for summer." He says his wife's favorite is the buffalo pork cheeks or New Orleans style gumbo, a vegetarian option.
Frank met his wife when he was cooking at Eventide Restaurant nine years ago where he also met his current business partners, Tim Irwin and Jeremy Barber. Since then he has been executive chef at Fiola in D.C. and most recently at Copperwood Tavern in Shirlington. But "I wanted the chance to become the owner-operator who could dictate the aspects and decide what food is best for the neighborhood, to choose the staff." Frank is celebrating the one year plus two day anniversary of opening Live Oak at 1603 Commonwealth St. He says, "One of the biggest challenges is learning all of the administrative stuff."
One final stir of the grits and Frank spoons them out into a large white bowl. Six shrimp are artfully arranged in a circle with the sauce poured around. "Always extra sauce is good." Topped with local microgreens and another Southern specialty goes out the door.