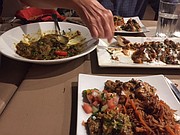 Friends, families with children and businessmen crowd into a small Afghan restaurant located in a strip mall in Springfield for an authentic Afghan lunch cooked from family recipes. Afghan Bistro, located in Alban Shopping Center at 8081-D Alban Road, was listed in Washingtonian's 100 Very Best Restaurants 2017. This new Springfield restaurant has been open barely 22 months but now requires reservations during the busy lunch and dinner hours.
A popular appetizer is the Hot Mezza Assortment that gives the customer a tasting of four flavors including the spicy beef dumplings, roasted butternut stash bouraanee, roasted eggplant bouraanee and leek and scallion dumplings.

Taliha Masroor, a family daughter, explains that bouraanee is a method of cooking that involves roasting and then sautéing. She says her mother, Sofia, does all of the cooking using traditional family recipes.
In addition to the regular menu of stews, vegetarian dishes, chops and kabobs, there are daily specials. Today the menu includes Khameeri Mashreqi which is beef stuffed dumplings topped with lentils, kidney beans and chick peas and cooked in yogurt and Aracosian which is a goat stew cooked in house spices and served with a side of qubuli rice salad.

Owner Omar Masroor explains they chop up the whole goat shoulder and then slow roast it five hours in its own juices with tumeric and cumin.
"Be careful," the waitress said, "the goat stew contains bones."
The menu also offers hamburger, but with a punch. Masroor said, "Believe it or not, we sell a few of these every day." But he adds, "The customer favorites are all of the lamb dishes — the lamb shank, rack of lamb and also, of course, the Aushak, the leek and scallion dumplings. I try to keep the essence of Afghan cooking at its roots, no preservatives, artificial coloring, cream, butter or milk. And no microwave, just a lot of large pots."
Sometimes a surprise piece of birthday cake even appears for that special occasion, and it can be accompanied by a cup of green cardamon tea. Sharon Simkin has driven from Arlington to have her birthday lunch with friends.

Masroor said, "People come from all over — the metro area, from New Jersey, from North Carolina." On Saturday nights there is a regular live sitar performance that begins at 7:30 p.m.
Masroor said, "Afghan cooking is for the soul honestly. lt has a lot of flavors, fresh herbs and spices, really comforting." He says he came to America in 1982 and now he and his wife and two daughters run Afghan Bistro. "My brother and cousin are currently training to open another branch restaurant in D.C. this fall." Masroor adds that people are finding out about the Afghan fresh spices and that they are good for the psyche.