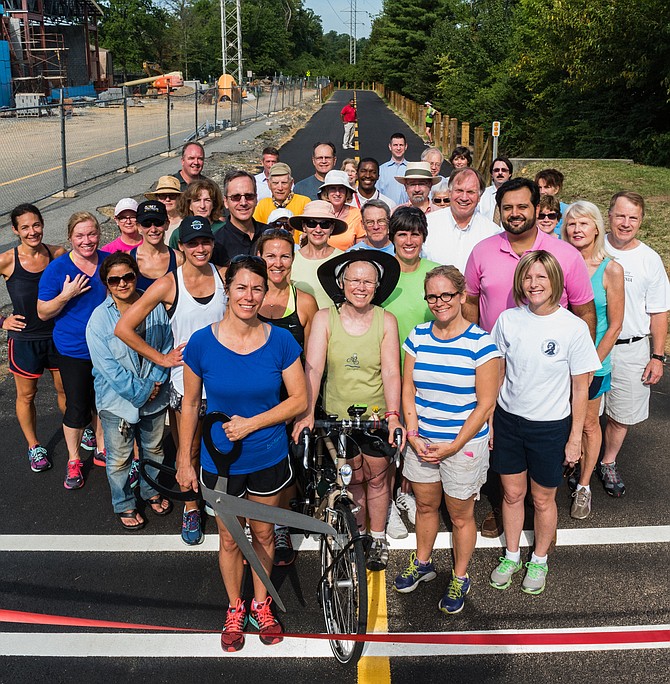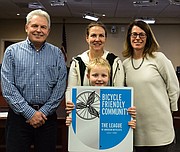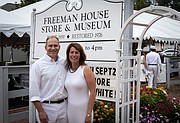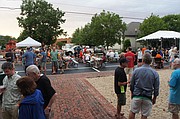 Mayor Laurie DiRocco's Top 10 Places/Events in Town
Vienna Halloween Parade – the Town has hosted this parade on Maple Avenue for 70 years!

Northside Park – 26 acres of conservation land.

Town Green – hosts Town events and musical acts.

ViVa Vienna – Vienna Rotary hosts this Memorial Day weekend event and all proceeds go back to the community!

Oktoberfest – hosted by the Vienna Business Association.

Meadow Lane Park – lots of tree coverage makes this a great park for little ones in the summer.

Walk on the Hill – people stroll through the lovely Windover Heights neighborhood and view gardens while learning about environmental sustainability.

Church Street Stroll – shop at local businesses on Church Street while seeing Santa and roasting marshmallows.

Chillin' on Church – enjoyable summer events with cold drinks, music, and tasty food trucks.

Renovated Vienna Community Center – the central hub of the community!
I would like to welcome you to our lovely Town of Vienna. I think you will agree that Vienna is a special and memorable place. Before I share my favorite things about Vienna, let me provide some general information and a few facts and figures about our Town.
The Town of Vienna is 4.4 square miles with about 16,500 residents and 14 parks, including the W&OD trail and Town Green. Vienna has inviting residential neighborhoods, a vibrant business district with many unique and local shops, and some of the best-ranked schools in the country. The Town is known for its numerous community events, including the Fourth of July fireworks, Oktoberfest, and the Halloween Parade as well as its strong sense of hometown pride.
These facts and figures help explain why Vienna is a great place to live and work, but they don't reveal the true heart of Vienna. To me, Vienna is its numerous volunteers, many of whom are honored every year at my Mayor's Volunteer Recognition Ceremony. Some residents help an elderly neighbor with groceries and yard work while others help bring public art to the community.
To me, Vienna is the volunteer firefighters who drive Santa around in their 1946 antique truck to greet residents young and old. To me, Vienna is the place where Town police shut down Maple Avenue for the James Madison High School homecoming parade.
I CHERISH the Town's strong sense of history. Listed on the National Historic Registry, the Freeman Store and Museum on Church Street is a small, local gift store filled with historical displays and memorabilia. I always buy the newest Christmas ornament there.
I also appreciate the Town's original Little Library, which smells of wood and old books. Every year students at Louise Archer Elementary School, built in 1939, host a special day to celebrate the school's history and first educator.
I strive to honor the Town's rich history while planning for thoughtful growth. We recently completed renovation of the Town's community center, which was originally constructed in 1966. I am so excited for big windows that allow sunlight to shine through the walkways and the new full-size gymnasium.
The community center will be the Town's first green building and will be LEED silver certified. A few years ago, the Town adopted the Maple Avenue Corridor (MAC) Plan, which supports redevelopment along Vienna's main thoroughfare. The plan includes green buildings, mixed uses, outdoor seating, public art, and improved pedestrian walkways.
My husband and I love to walk around Town, especially to local restaurants. On any given day, you will see lots of people walking and biking in Town, and we strive to support these activities. The Town has a Transportation Safety Commission and a Pedestrian and Bicycle Advisory Commission that work on adding more sidewalks; implementing traffic-calming measures where needed; researching creative solutions to challenging intersections; and supporting Safe Routes to School. On Fridays at 9:30 a.m., I lead a walking group from Town Hall. Everyone is invited (please come join me!) and we usually walk about 3 miles. It is a great opportunity to see various parts of Town and to chat with residents. Last spring, we walked to see the oldest trees around Town.
The Town has a strong relationship with its schools. Currently, I am working with James Madison pyramid principals on a partnership in which students work on Town projects and help solve problems in the community. The new project-based learning program will help educate students about local government, teach them how to be active and engaged citizens, and possibly lead them to discover career directions.
OK JUST A FEW MORE, less well-known things that I truly love about Vienna.
Many people don't realize that Vienna has an eclectic music scene with Jammin' Java, School of Rock, and Vienna Jammers, to name a few. Right outside of Town is Wolf Trap National Park for the Performing Arts. Additionally the Town Green hosts a variety of local bands. I can't forget to mention Vienna Idol, the Town's annual musical talent contest that raises money for the Khristin Kyllo Memorial Fund.
You may not realize that the train depot on Dominion Road is home to the Northern Virginia Model Railroaders, who host monthly open houses so the public can view their model train displays.
Many people when they think of Church Street, think of Vienna Presbyterian Church, whose historical chapel sits on the corner of Church and Mill Street. But the First Baptist Church has been in existence longer than the Town itself, with its original location on Lawyers Road near Church Street. This year the First Baptist Church is celebrating 150 years in the Town of Vienna!
I believe Vienna's strong sense of community is created by its citizens and their desire for a caring and welcoming place to call home. I am so grateful to be mayor of this special Town. If you ever want to know more about the Town or have any questions or concerns, please feel free to contact me at ldirocco@viennava.gov or 703-255-6310. For more information, visit the Town's website at www.viennava.gov.