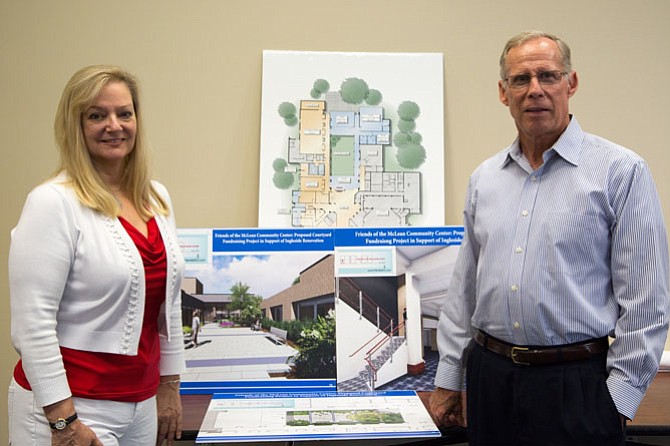 Upcoming Events for McLean Community Center
Fall Community Garage Sale — Saturday, Sept. 16, 9 a.m. -1 p.m.

After Mixer — Friday, Sept. 29, 7 p.m – 10 p.m.

MPA Artfest — Sunday, Oct. 1, 10 a.m. – 5 p.m.

The McLean 5K Fun Run — Saturday, Oct. 7, 8 a.m.

McLean Day 2018 — Saturday, May 19, 11 a.m.-5 p.m.
"The Center of It All" can be found at 6631 Old Dominion Drive in the McLean Square Shopping Center, the temporary home of the McLean Community Center. Their permanent location at 1234 Ingleside Ave. is undergoing extensive renovations and won't reopen again until the fall of 2018.
Along with the McLean Community Center Governing Board, and The Lukmire Partnership, George Sachs, Executive Director of the McLean Community Center is a driving force behind the renovations. "It's an exciting, fresh, new updated, upgraded facility for this community. We are reaching populations in our community who haven't used us before!" said Sachs.
The community center has existed in McLean since 1974 and the renovations were made possible by the residents of McLean. According to Sachs, the tax-base supports the center per an assessed value on residents' homes. "A $1 million home pays $230 a year toward the center," said Sachs.
Over the past few years, a much disputed tax surplus built up and residents voted on how to distribute the funds. The vote went toward renovating the community center. No additional funding had to be raised towards the renovation. Tax surpluses were able to cover the $8 million cost of the project.
Robin Walker, Social Media Editor at McLean Community Center, is looking forward to the renovations and the way that they will benefit the larger community. "I think the increased class space and all purpose room will allow more and better cooking, art, and yoga classes. We have the space now!"
All of her children were able to experience the events and space at the McLean Community Center and as a resident of this community she feels obligated to give back. "I was on the board that voted to renovate the center," she said.
The renovation will update bathrooms, add new ceilings, new lights, and bring the rest of the outdated building up-to-code for building inspectors. It will also add a new board room, multi-purpose room, and conference room.
"Better working conditions for staff will be created," said Walker.