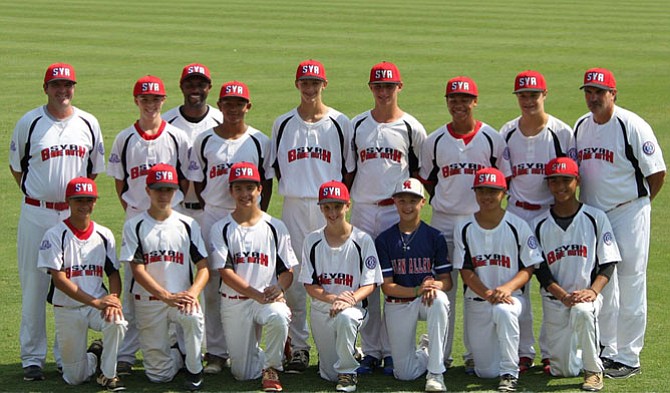 The SYA 14 Year Old All-Star team went 13-1 overall during All-Star competition. This included winning the Virginia District 7 Babe Ruth Championship, winning the Virginia State Babe Ruth Championship, defeating the Virginia 15U State Champions in preparation for the World Series, and going 4-1 in the World Series.
SYA was one of 10 teams worldwide to quality for the 14 Year Old Babe Ruth World Series.
During the World Series, the SYA 14 Year Old Team went 4-0 in Pool Play:
Defeated Greenville, N.C. (Southeast Regional Champion) 3-2 in 10 innings

Defeated Hamilton, N.J. (Mid-Atlantic Regional Champion) 7-5

Defeated Trumbull, Conn. (New England Regional Champion) 5-1

Defeated West Linn, Oregon (Northwest Regional Champion) 11-1 in 5 innings.
As one of two top seeds, SYA earned a first round bye and then lost in the Semifinals to West Linn, Oregon (Northwest Regional Champions) 4-3.
West Linn lost to Honolulu, Hawaii (Pacific Northwest Regional Champions) in the Finals.

"Managing this team was easy," said manager Dane Charneco. "It was a tremendous group of kids, dedicated assistants, and supportive parents that made this special summer possible. Everyone bought in and believed in the process. The boys were outstanding teammates and all contributed greatly to our overall team success. They worked hard all summer, willingly incorporated feedback, and consequently our team was able to make huge improvements in a relatively short period of time. We are proud of the manner in which the boys carried themselves; they are tough, smart, talented players who played exceptionally hard for one another. Although we were young and undersized compared to many of the teams we faced throughout All-Stars, the boys certainly proved that they could compete at an extremely high level against some of the best players and teams in the country."
SYA's team consisted of Zach Bowers, Centreville HS 2020; Lahe Calvo, Centreville HS 2020; Jake Carpenter, Centreville HS 2021; Campbell Charneco, Centreville HS 2021; Jason Cheifetz, Westfield HS 2022; Gavin Collins, Centreville HS 2020; Ben Cousino, Centreville HS 2020; Alex Cross, Westfield HS 2022; Nick Lottchea, Westfield HS 2021; Aiden McDonald, John Champe HS 2022; Pasha McDonald, Fairfax HS 2021; and Caleb Roundtree, Westfield HS 2021. The team's bat boy was Andrew Harris of Glen Allen, Va.
The team had six returning players (Zach Bowers, Lahe Calvo, Campbell Charneco, Gavin Collins, Ben Cousino, and Nick Lottchea) from last season's defending 14 Year Old Babe Ruth District 7 and Virginia State Champions.