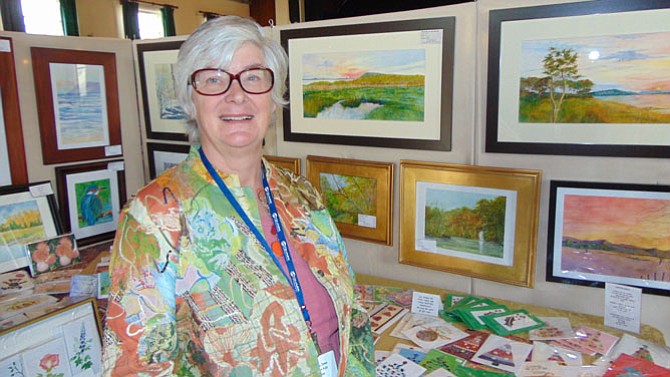 About 25 artists from Great Falls Studios took part in the Annual Holiday ArtFest last weekend, Dec. 2-3, at The Great Falls Grange and Old Schoolhouse on Georgetown Pike, as well as the Artists Atelier and The Artists Loft in the Village Center on Walker Road. Guests could mingle with the artists, learn about their work and purchase artwork, cards and gifts. The artists include jewelers, painters, photographers, potters, sculptors and fiber artists. Established in 2003, Great Falls Studios is an organization of 110 independent artists living and working in Great Falls.
"This is one of three annual events Great Falls Studios has each year; we have one in the spring – the Spring Art Fest in May; we have the annual Studio Tour where we invite members of the public to visit our working studios; and this is perhaps the most festive before the holiday season – it's the Holiday ArtFest when we have 25 artists taking part," said Linda Jones, president of Great Falls Studios.
She said, "The founding idea of Great Falls Studios was to nurture the artists and develop an artistic community in Great Falls for the artists who actually live here. It's amazing that Great Falls has so many artists living here."
She added that one of the main aims is to nurture an artistic community and to develop a community spirit, which is why they like having their events in a central place, which has been at The Grange.
For more information, visit the website at www.greatfallsstudios.com.