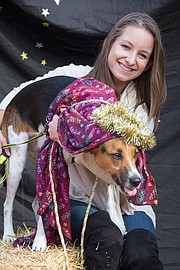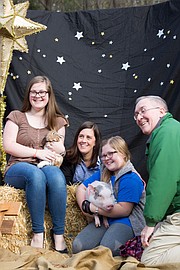 The Church of the Good Shepherd in Oakton celebrated the holidays early on Saturday, Dec. 2 with a live puppy nativity. The United Methodist Church welcomed church members and Vienna-area residents to bring their dogs and pose for pictures at the nativity scene in front of the church.
Refreshments were provided as families brought their favorite dogs, rabbits, and even a house-trained pig. The idea was Father Eric Song's, the recently inducted reverend of the church that almost closed its doors before his arrival because of a decrease in membership. Now, the church is working to attract more members of the local community.
"The original idea came from a church where I used to work by a walking mall in Winchester. The idea is to bring the community together to celebrate the holidays. And the original Christmas nativity scene had a lot of animals," said Reverend Eric Song of Vienna.
Proceeds which were collected by the Good Shepherd youth group benefited Second Story, a local non-profit that deals with youth homelessness in Fairfax County.
Dogs and humans were both able to dress up in nativity scene themed costumes. One of the hats had sheep ears. Another dog was given a wise man hood with a sparkly band around the top. It was difficult to get the dogs to sit still long enough to participate in the photo opportunity, but some owners were able to manage to hold their dogs' interest long enough to get a family photo.
Tarah Grant of Vienna came to the church Saturday with her two daughters and their pet 8-year-old Chihuahua named John-Pierre, who belongs to her mother. "We think it's such a creative idea. We love dogs and Christmas so combining the two was a great idea. We heard a lot about this event last year, so I was looking for it," said Grant.
Other families came from Alexandria, like Jana Murphy, owner of two long-haired Chihuahuas, and her two children. "I own a pet business and I think it's great when anybody is able to include animals. The church is going to get a diverse turn-out because of this and I think it's a great way to introduce the church to the community," said Murphy.
The diversity of pets made the event even more fun as the Wright family brought their two daughters, pet rabbit, and pet pig Albert. "It's my fault, I know this isn't a church event with a petting zoo, but my wife fell in love with the pig's adoption sign and she was hooked," said Daryl Wright, a Vienna resident and children's director at Providence Presbyterian Church in Fairfax.
"We called the town of Vienna and they said we didn't need a license," said Elaine Wright, owner of Albert the pig. "They just told us he might need an identification tag just in case he gets loose in the town, so they know whose he is," she said laughing.