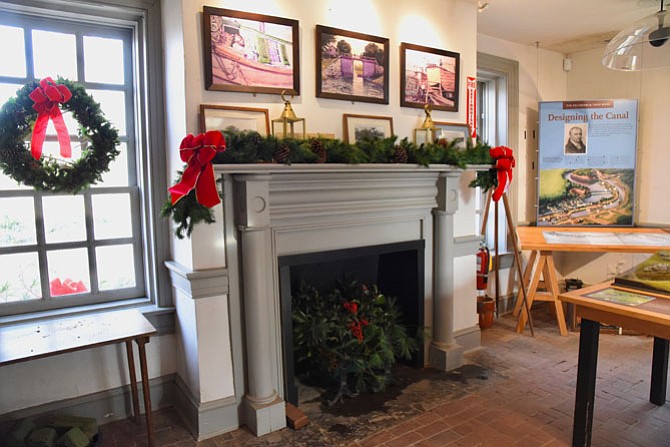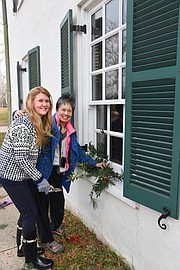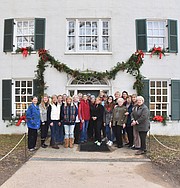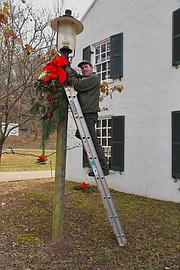 The smell of pine boughs, the beauty of fresh-cut greens and a vision of garlands and wreaths decorated with red bows and ribbons transformed the historical Great Falls Tavern into a Christmas wonderland on a sunny Dec. 4 morning. The C&O National Canal Park landmark was garnished by the Little Farms Garden Club — an event which has drawn 30-40 members annually since 1978.
"The group meets to decorate no matter whether it is raining, snowing or blowing," said Tavern decorator extraordinaire and organizer Traci Hoffman. "We create all the decorations — the swags, garlands, bows and wreaths from the greenery that is delivered. Each year the decorations are unique to the greens that we are given. We are pleased that we can share the joy of the season by making this lovely historical tavern even more beautiful."
The greens are delivered on the morning of the Little Falls Garden Club decorating event by a "Secret Santa" — no one would reveal the source or if the greens came via sleigh, truck or horseback. Club President Jean Mullan said that all members are sworn to secrecy. "We are so fortunate to have the help of National Park Service Ranger Mark Myers to brave the ladders and heights required to deck the Tavern. We could not make it such a beautiful Christmas setting without him every year."
The Little Farms Garden Club was established in 1961 by young Potomac housewives. At the time, many of Potomac residents lived on farms and the group decided to name it after the "little farms" where many resided. The club has continued to flourish — membership is by invitation and the club has 75 members who live in the Potomac area.
"I'm a new member," said Piper Larson. "I am so impressed by the warmth and friendliness of each member — and by the education I am receiving. The monthly speakers are incredible and I have already learned so much about gardening, arranging, landscaping and entertaining. I came here to help decorate the Tavern — and I am taking away new skills of wiring a garland and a wreath — and making bows. I had never ever used clippers before."
The group meets monthly at members' homes for presentations by professionals on some aspect of gardening. In addition to camaraderie, education and friendships, 50 percent of their mission as a club is devoted to community service. They landscaped the Rockland House, a women's shelter in Rockville and volunteer with Potomac Community Resources making crafts and arrangements with young adults with developmental disabilities. They raise funds for needy families — and beautify Potomac Village in many ways. Many years ago, the Gazebo in Potomac Village was donated by this club. They also travel as a group to gardens in the area.
"I feel so fortunate to be a part of this wonderful organization that is committed to helping others as well as to beautifying the world," said Betty Lee, a club member.