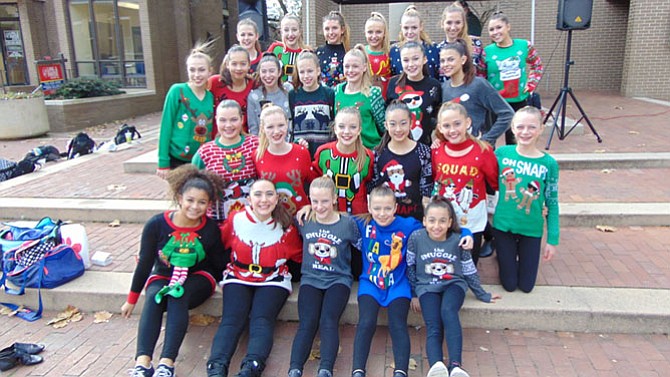 Reston — For the 38th year, Santa arrived by a barge for the Jingle on Lake Anne event held Saturday, Dec. 2 in Reston. The free holiday event that was hosted by Lake Anne Merchants brought out the crowds and included a visit from Santa, live music, merchant specials, children's crafts, cookie and ornament decorating, a holiday arts and crafts market, and a giant snow globe. The Reston Farmer's Market was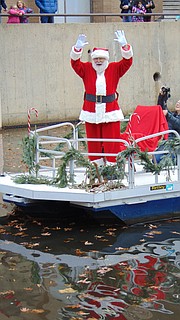 held simultaneously.
"The Jingle on Lake Anne is a long-favored community event that includes the Reston Community Center doing Gifts from the Heart, which is a fundraiser for Cornerstones Charity, and the Lake Anne Merchant community that comes together to put on this event. We do cookie and ornament decorating and Santa comes by barge. It's just a fantastic thing that we've done for the community," said Eve Thompson, owner of Lake Anne Coffee House.
Accompanying Santa on the barge were about 44 people on paddle boards who took part in the second annual "Jingle Paddle" event that was organized by Steve Gurney, owner of Surf Reston.
"We've been doing Jingle Paddle for the last two years. We've had an amazing turnout with 44 paddlers and kids on our monster paddle board," said Gurney. "Last year it was really windy and we were really nervous that somebody might go in; nobody went in. This year the water's nice and calm. It's beautiful out and we just had a great time."
Gurney said the group paddled about a half mile from the Lake Anne Boat Launch into the Plaza, and they were heading to Kalypso's Sports Tavern for coffee and hot chocolate, and then enjoy the festivities at Lake Anne Plaza before paddling back.