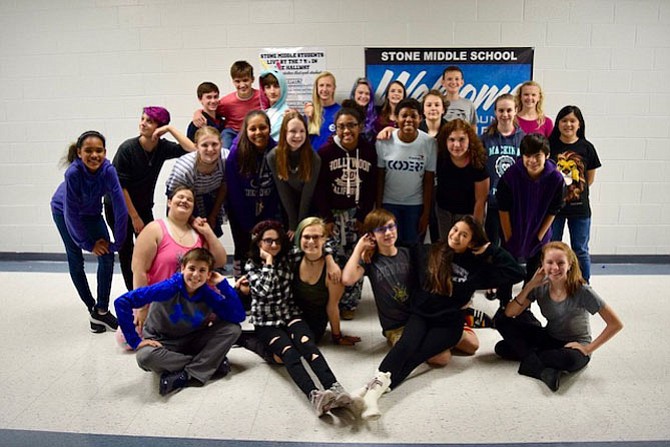 Details
What: "Into the Woods, Jr." musical production by The Stone Players
When: Thursday Dec. 14 at 3 p.m.; Friday, Dec. 15 at 7:30 p.m.; Saturday, Dec. 16 at 3 p.m. Thursday's performance is presale tickets only. Tickets are sold during lunch shifts Monday-Wednesday at Stone. Price: $7 per ticket. General seating.
Where: Stone Middle School, 5500 Sully Park Dr. Centreville. Phone 703-631-5500
The Stone Players of Ormond Stone Middle School will be taking on the Tony Award-winning production by Stephen Sondheim and book by James Lapine this year in the annual school musical.
The group will perform "Into the Woods, Jr." from Thursday, Dec. 14 to Saturday, Dec. 16 in the Stone Middle School Theater. The musical is about a childless baker and his wife and their quest to build a family. A witch placed a curse on them and they interact with many storybook characters such as Cinderella, Little Red Riding Hood, and Jack and the Beanstalk on their journey. The show is about growing up, accepting responsibility, and the consequences of having one's wishes fulfilled.
Lois Stanziani directs and choreographs the production with the help of Assistant Directors John-Nicholas S. Walsh and Zack Walsh, Choral Director Charles Quinlan, and Production Assistant Guillermo Alleyne.
Stanziani, a performer and veteran director of productions at Stone, said the cast and crew of 31 seventh and eighth graders have been practicing since September. The roles of the Baker and his Wife are played by veteran eighth graders Nick Werderman, and Ariana Thomas who were both in last year's production of "Guys and Dolls Jr." The Witch is played by Kayla Gadley and Jack's mother is brought to life by Emily Miller.
Tickets for the show will be available Monday through Wednesday, Dec. 11-13 at Stone MS during all lunches. Tickets will also be available at the door for the Friday evening and Saturday performances; Thursday's performance is pre-sale tickets only.