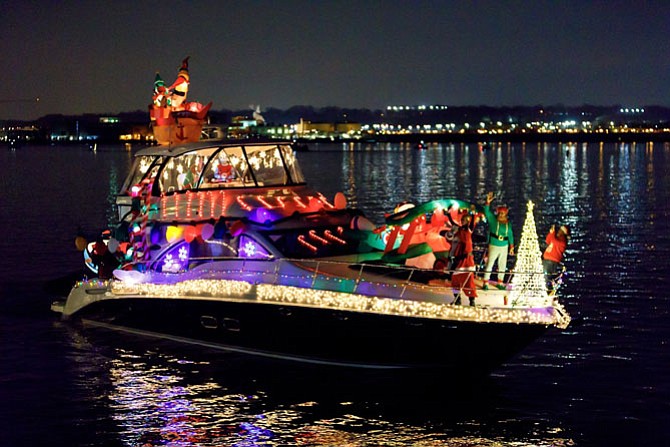 Thousands of spectators gathered at sundown along the Alexandria waterfront Dec. 2 to watch as more than 50 boats participated in the 18th annual Holiday Boat Parade of Lights.
Led by Alexandria's fireboat, Vigilant, and Washington D.C.'s fireboat, John Glenn, the illuminated boats cruised the Potomac River as they competed for prizes in categories ranging from Best in Show to Best Try.
Media personality Tommy McFly of 94.7 Fresh FM and NBC4 served as announcer of the mile-long parade, which featured a mixture of powerboats and sailboats.
The Best of Alexandria Show went to State of Comfort, led by Captain Brian Johnson, which featured a musical karaoke concept, "Have a carolOKE Christmas." Best Powerboat went to Stimulus Package and Captain Greg Drenter for "Christmas Angel," an illuminated blue angel with animated wings.
Best Sailboat went to Wisp and Captain Tim Fontana whose crew celebrated the Capital Yacht Club's 125th anniversary with a Capital Yacht Club flag in red, white and blue lights. Other notable entries include Hardiest Soul winner FLOTUS, a canoe and paddleboard duo led by Kelsey Semrod, and a new category added for the evening, Best Spirit of Harmony, which was awarded to Nalani and Captain Daniel Ricks for "COEXIST/Rainbow Trees."
The 2017 winning boats are: Best of Alexandria Show - State of Comfort; Best Powerboat - Stimulus Package; Best Sailboat – Wisp; Best Spirit of Harmony (New Category) – Nalani; Best Spirit of America - Beach House; Thinking Outside the Christmas Box – Cyganka; Most Animated - iechyd da!; Most Holiday Cheer – Anamchara; Most Spirited Crew - Letter of Marque; Best Theme – Kairos; Hardiest Soul – FLOTUS; and Best Try - O'Sea Dee.
The parade was sponsored by the City of Alexandria, Visit Alexandria, the Old Dominion Boat Club and Potomac Riverboat Company.