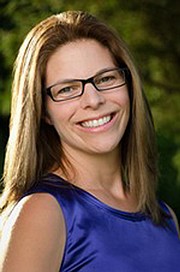 This year, popular items on children's holiday wish lists are likely video games, mobile devices, and trendy articles of clothing. There's a more enriching way to approach holiday gift giving for youths, though.
Keeping in the holiday spirit doesn't mean mentally checking out, according to Dr. Lisa Turissini, chair of Marymount University's Education Department. Stimulate their intellect and curiosity with gift giving this year, and ultimately provide children with much more than the surges of adrenaline they'll receive from unwrapping something shiny or with a battery.
Turissini, who has been an educator for more than 30 years, leans toward gifts that result in experiences. When holiday season rolls around, she suggested an array of gifts that ultimately lead to more knowledge, or more memories
"Experiential gifts stay in our memories forever, and an interesting trip can be one of the best family gifts," she said. "Music lessons, for instance: As kids learn new skills, such as playing a musical instrument, they gain confidence. Also, the process of studying, practicing, and performing teaches kids how to set and achieve goals. Kids taking these kinds of classes or lessons are able to explore their creativity."
These types of gifts don't have to be expensive either.
"Board or card games are great because they will lead to a coming together for a family game night, which is old-fashioned fun," she said. "Developing strategies through critical thinking and learning how to be a good winner are some of the benefits. Our family in particular enjoys Risk, Monopoly and Uno."
She added that downloading a collection of good Podcasts makes a great gift, too.
Local early education experts agree that playing is an important part of childhood, and gift-giving season is a great opportunity to provide them with the tools for the best kind of play.
"Children learn through play," Turissini said. "When playing with educational toys and games, children can develop perception, intuition, and reasoning as they engage in creative activities. Educational toys can help children connect to their thought processes and further develop their capabilities to think freely. Common toys that help boost cognitive skills include puzzles and number games. By providing children with well-devised play experiences, inside and outside, children develop appropriate social interaction skills, language skills and emotional development.
While technology has changed so much about this generation of elementary school aged children, teachers continue to see the benefit of traditional learning toys. Technology isn't all bad, but, kids need time away from screens to interact with the real world.
"I've taught little people for eight years and higher ed for almost six years," said Dr. Carley Fisher-Maltese, an Early Childhood Education assistant professor for George Mason University's College of Education and Human Development (CEHD). "Some STEM-related toys that I'd consider purchasing for my own kids would be telescopes, microscopes, and logic and/or puzzle books."
Despite the lure of mobile devices, youngsters today still seem to find fun in the simple stuff.
"I love books of science experiments, particularly kitchen science, where you can find pretty much everything you need in your kitchen. My kids love making slime — they even have kits you can buy to make it — and making volcanoes explode with a little baking soda and vinegar. I also like building toys for kids, such as marble mazes and magna tiles. There are some good robot-building kits and drones that connect to your phone or tablet that you can buy for older kids."
Think outside the box – literally. Dr. Debbie Stone, GMU CEHD assistant professor of Child, Family and Community Engagement, said some of the best gifts are impossible to wrap up or put in a gift bag.
"I am a big advocate for open-ended toys such as building materials, art supplies, a dollhouse, kitchen, etcetera," Stone said. "Anything that sparks open-ended play and problem solving gets my vote."
Children need to keep moving over holiday break, too. A gift as simple as a jump rope could help with this.
"It is important for children to engage in physical activities during holiday break," Turissini said. "Bike riding and nature walks are terrific ways for children to get the physical exercise that they need. In colder weather building a snowman or going sledding can be fun for all. By allowing children to participate in a variety of activities you will ensure continued not only healthy emotional and physical development, but also kids who are recharged and ready to get back to school."
With existing excitement in the air, it's a perfect time to spark a love of discovery within children.
"Picture a future where, rather than making a trip to the local store for a toy, your child could create toys for him or herself," Turissini said. "It sounds like something out of a futuristic movie, but conceivably, kids can make their own creations using a 3D printer, which today is extremely expensive. But, as with computers and flat-screen TVs, the price of 3D printers will eventually go down as the technology becomes more widely available. In a couple of years, your child and her friends could be printing their own dollhouse furniture, trains, and cars."