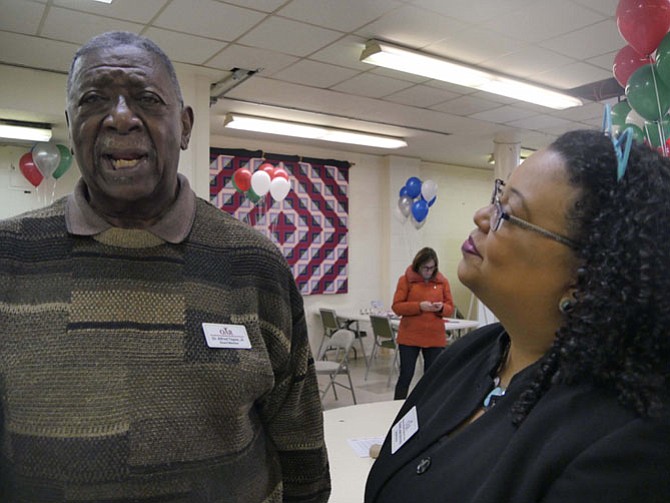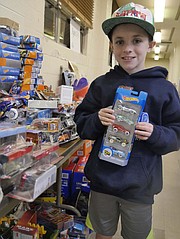 The weather outside is frightful but the room inside is delightful where almost 250 volunteers have signed up for OAR's Christmas Angel gift-wrapping party to wrap presents for children with incarcerated parents. Elizabeth Jones Valderrama, executive director of OAR says this is a 30-year tradition that began with picking five families to assist at a holiday staff party and then it just expanded from there. They have been holding the event at St. Andrew's Episcopal Church for the last 18 years.
She says this year they will be providing presents for 400 children. "We call every single family to be sure we have the names and ages of the children and that we haven't missed a child. We ask about the child and what they would like to have for Christmas." Jones says that when she recently talked to the guardian whose husband was incarcerated, "the mom teared up because these were the only presents her three children would receive this year." Jones says another family has five children all in separate foster homes because both parents are incarcerated. "But we will get presents to all of them even though they aren't together."
The volunteers hang their coats on the rack by the door, grab a slice of pizza and head for their assigned table where they find a list of children. Each table is loaded with multi-colored wrapping paper, tape and scissors as well as a list of children with information about gift preferences and handwritten notes by the incarcerated parent. This way each child will receive a gift with a personalized note from the absent parent. Along the walls of the large room at St. Andrew's Episcopal Church are tables full of toys arranged by age level.
Eight-year-old Kevin Dolenc is there with his mother. He says he is wrapping presents for other children who have parents in jail. Kevin heads for the 4-5 year old table and picks up a box of five Hot Wheels cars. "This is what I donated."
Valderrama says there are a number of people who make it a family tradition to come every year. "We have people who have been participating for 20 years." She says the volunteer list completely filled up in 15 days. After all of the presents are wrapped about 40 volunteers will deliver them to the children's homes by Dec. 21-22 to be sure they arrive in time for Christmas.

While the tables are full of trucks, books, games and sports equipment, Jones says they particularly ask for gift cards for teens. "People like to bring stuffed animals and toys, but we have a lot of teens." She said the children this year range from a two-month-old to an 18-year-old.
There are a number of needs in the community and according to Anne Breville, Volunteer and Special Projects associate, "we all work together." Arlington Food Assistance Center (AFAC) had dropped off some toys for the OAR wrapping event, and OAR provides gifts for children at the annual sheriff's party if the incarcerated parent has participated in parenting classes. "It's a big incentive because this is the only time all year when the prisoner can touch and hug instead of visiting children behind glass."
Sheila Berry, an OAR board member says, "I'm on the board because I live and work in Arlington and care very much about my neighbors living a comfortable life."

Dr. Alfred Taylor, Jr. has been a member of the OAR Board for five years. He says, "I have always had a personal belief in second chances." He points out how difficult it is when a person is released from prison and their family has probably abandoned them, they don't have any money and don't remember how to make decisions. "They just fall back into what is familiar — their former life." OAR steps in and bridges the gap to help reintegrate them into the community.