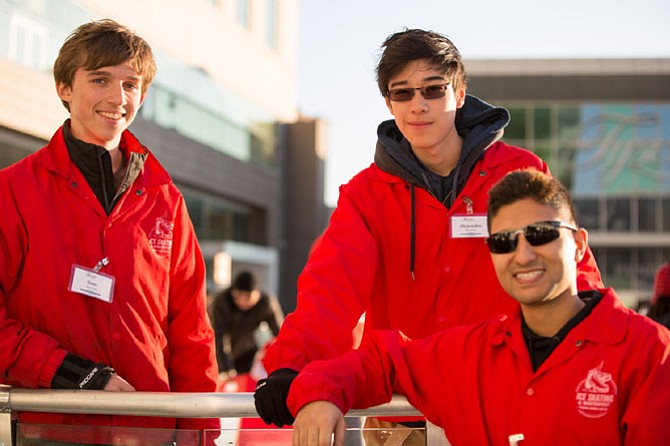 Vienna — Saturday Dec. 16, the ice skating rink at Tysons Corner Center in the outdoor bridge area by Lord and Taylor and Shake Shack was buzzing with ice-skaters of all ages and skill levels. This is the fifth year that the rink has been in operation at Tysons Corner, adding a holiday feel to the shopping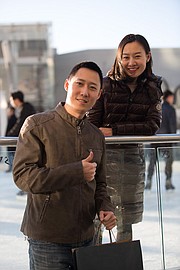 mall.
Amir Sefat, manager on duty Saturday, and George Mason University senior enjoys working at the ice skating rink because he plays hockey.
"It beats being inside and working in the mall all holiday season," said Sefat. "This ice skating rink is unique because it's a frozen outdoor pond on a bridge in a plaza. There's a lot more that goes into it than meets the eye," said Sefat.
According to Sefat, the rink took a few months to set up because of cooling pipes under the ice which help to keep the rink frozen even during warmer weather. The rink was finished and opened to skaters on Nov. 27 this year.
"Ice skating is different from the regular ground, you have freedom and it feels like you are flying," said Sefat. "The reception has been outstanding this year. We have had a lot of people, grandparents and kids as well. We even had to get special tiny size shoes for little ones," said Sefat.
The ice skating rink also boasts a Barrel and Bushel restaurant which serves food and a full bar for relaxing before or after ice skating.
Skate hosts in red jackets also patrol the ice helping those who have slipped and fallen. "I make sure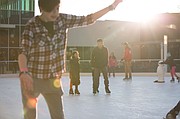 all of their shoes are tied and if they've fallen that they're alright," said Alejandro Catacora, 16, sophomore at Albert Einstein High School.
Rennie Zhang and Michelle Li of Tysons Corner, were enjoying the ice skating rink between shopping at the mall.
"It's my first time and it's interesting so far. It's not as scary as I thought and a lot of fun and I'm really enjoying it!" said Li.
Emerald Mathis, 17, homeschooled from Reston, was also working as a skate host Saturday. Between polishing the glass on the edge of the rink, he commented on what it's like to work at an ice skating rink during the holiday season.
"I wanted to work here last year," said Mathis. "As a skate host, people are going to fall, but it's about making sure that they get up OK!" he said.