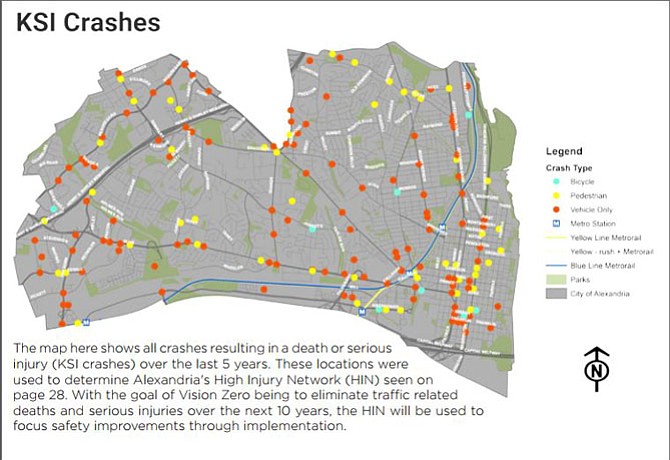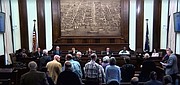 "Traffic violence in our city is taking an increasing toll on the people who live, work and visit here." — Jim Durham, representing Bicycle-Pedestrian Advisory Committee
Habibollah Behzadi took a walk every day with his wife around their neighborhood in the West End. On their Aug. 11 walk, when it started to rain heavily, they began to head home. They were walking hand in hand over a pedestrian crossing when an SUV came down the street and hit both of them. They were rushed to the George Washington emergency room, where Habibollah Behzadi struggled for 38 hours before he died from a combination of heart contraction, brain hemorrhage, intestinal rupture and fractured bones. His wife survived, but with serious injuries. After a series of surgeries, with more still to come, she requires the help of a walker and a cane. In addition to the physical injuries, she suffers from lingering post-traumatic stress disorder.
It's the reality of life for those living in the wake of a traffic crash. Daheem Behzadi, Habibollah Behzadi's daughter, was one of several Alexandrians sharing their accounts of the impact of a traffic crash on a family at the Dec. 16 City Council meeting. At the meeting, the council unanimously adopted the Vision Zero Actions Plan, a data-driven approach to traffic safety with the goal of eliminating all traffic deaths and serious injuries by 2028.
The plan has four strategies for combating traffic fatalities and serious injuries. The first is improving data collection and evaluation, which means collecting and processing more data on where crashes take place and assessing programs dealing with traffic safety on their effectiveness. Vision Zero also pushes for this data to be made public and accessible. On the legislative side, Vision Zero calls for the city to evaluate policy and traffic guidelines to potentially look at safety reforms. The plan also tasks the city wish pushing for state-level legislative efforts to implement stricter traffic safety laws. Vision Zero collaborates with the city's Safe Streets program to develop, prioritize, and implement safety measures. The broadest section of the Vision Zero plan, and one emphasized in the council discussions, was reforming traffic culture into a culture of safety.
The public comment drew support for the plan from Alexandrians. Alan Dinsmore, representing the Commission on Aging, said the commission was supportive of the plan from the beginning because older individuals in Alexandria are among those most at risk for being killed or seriously injured in a crash.
Jim Durham, representing the Bicycle-Pedestrian Advisory Committee, thanked the city for developing the action plan.
"Traffic violence in our city is taking an increasing toll on the people who live, work and visit here," said Durham. "Time to act is now. More than 38 percent of crashes resulting in [kills and serious injuries] happen in 35 mph streets. [We] ask that you implement a city wide plan as soon as possible."
One of the recurring questions, from the public and members of the council, was why some of the plan's proposed changes were so restrained. In year one, 10 intersections in Alexandria will have "No Right on Red" turn restrictions implemented. Michael Doyle, representing Alexandria Families for Safe Streets, pointed to the safe street reforms in New York City where the entire city became a "no right on red" city.
"It provides consistency," said Doyle. "Take these sweeping programs now, then step back on certain intersections and certain streets if it needs to be changed. But this could save lives now. This is the time to be bold. We're encouraging the city to be bold in its action."
"If these are dangerous situations on turns, why don't we just say [right on red is illegal]?" Vice Mayor Justin Wilson asked.
But Hillary Orr, deputy director of Transportation and Environmental Services, said the city's approach is to start smaller and expand with proper data.
"I don't think in this plan we're ready to commit to a blanket 'we're going to do these policies'," said Orr. "We implement some, and see how they change the behavior of an intersection before broader implementation."
Much of the conversation around Vision Zero focused on the plan's emphasis on changing the culture of driving. Councilwoman Redella "Del" Pepper compared it to awareness of communicable diseases that started in elementary schools.
"A lot of this is on the individual," said Councilman Willie Bailey. "We can sit up here all day and vote on things, but we need to get the word out. We need to make sure we're always talking about Vision Zero. Getting the word out on safe streets. In Falls Church, for instance, if you go through Falls Church over 25 mph you're going to get a ticket, and that's just in conversations folks have about Falls Church."
All of the speakers and City Council members were supportive of the plan.
"Please do not let anybody else experience what my family has gone through," said Daheem Behzadi. "Please [support] Vision Zero."
The City Council unanimously approved the Vision Zero action plan.