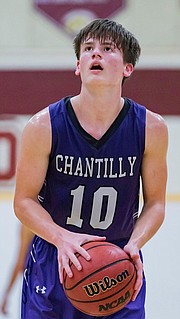 The Chantilly Chargers Boys Varsity basketball team traveled to Oakton to take on the Oakton Cougars on Feb. 3. The first 8 minutes saw Chantilly jump out to a 12-9 advantage.
Oakton would narrow the lead to 1, after outscoring Chantilly 18-16 in the 2nd quarter.
With the Chargers up 28-27 to start the 3rd quarter both teams struggled offensively. Chantilly would outscore the home team Cougars 8-6 taking a 37-33 heading into the 4th.
In the 4th quarter Chantilly would be held to just seven points while Oakton would add 10 forcing overtime. Jacob Posz's shot with time expiring forced OT.
In overtime Chantilly and Oakton remained knotted up after the additional 5 minutes and a 2nd overtime was needed to decide the outcome.
In the 2nd OT Oakton outlasted the Chargers scoring 13 and holding the Chargers to 5 points.
With the 64-56 win, Oakton improves to (13-7) (2-6), and Chantilly falls to (14-7) (6-3). Oakton will play their regular season final on Feb. 8, when they travel to Centreville. Chantilly will host Westfield. Both games will be at 7:30 p.m. Oakton was led by Braeden Johnson's 24 points and Jacob Posz's 14. Chantilly was led by Christian Parana's 13, Brett Caslavka's 12. Daniel Carmichael and Kendall McHugh added 11 and 10.