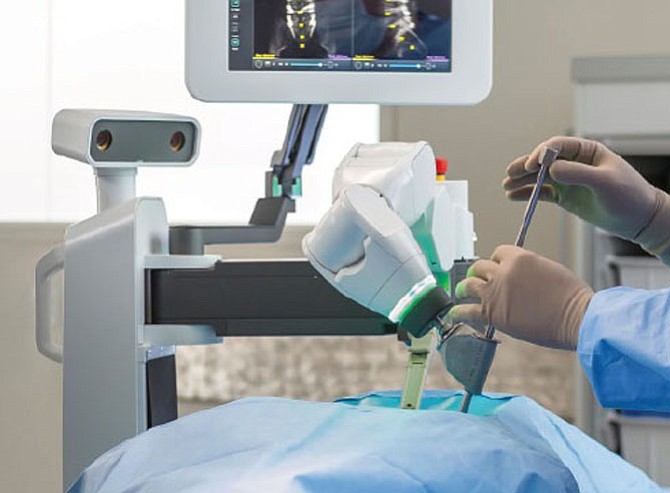 Reston — Reston Hospital Center is the first in the region to add the Mazor surgical assurance platform to its award‐winning regional spinal surgery program. The Mazor X system combines unprecedented pre‐operative planning tools and analytics with unparalleled intra‐operative guidance, giving Reston Hospital Center patients the most advanced spinal surgery options available. "We chose the Mazor X system to provide our surgeons with the highest level of pre‐operative assessment and intraoperative precision," says Dr. Raymond Makhoul, Chief Medical Officer at Reston Hospital Center. "As spinal surgery has evolved, more focus has been placed on minimizing trauma to the body during surgery and expediting a return to function through the use of minimally invasive techniques, and this is where Mazor X can deliver its greatest value."

Minimally‐invasive procedures can mean less pain, less blood loss, smaller incisions, shorter hospitalizations and shorter recovery time for patients. Smaller incisions usually pose a challenge to surgeons due to the limited view of the anatomy. The Mazor X system helps to overcome this challenge with a 3D comprehensive surgical plan and analytics that gives the surgeon unprecedented information before the surgery even starts. The result? The surgeon may operate with greater precision, efficiency and confidence.

On Feb. 1, members of the spine team at Reston Hospital Center performed the first case using the Mazor X system. Dr. Christopher Good, Dr. Tom Schuler, and Dr. Colin Haines of the Virginia Spine Institute completed the first successful case in the Mid‐Atlantic. "I am very excited that the Mazor X technology is now available to our patients. We are proud to have performed not only the first; but, the most robotic spine surgeries in the Mid‐Atlantic region. This technology allows us to offer robotic surgery to our patients both for minimally invasive spine surgery and scoliosis reconstruction," said Dr. Christopher Good, spine surgeon at Reston Hospital Center. "Our research is showing that robotic surgery can decrease radiation to patients in the operating room as well as improve accuracy of surgery while decreasing patient complications. The new Mazor X system represents the future of robotic spine surgery. Inevitably, it will lead to many future breakthroughs‐ combining robotic surgery with intraoperative spinal navigation and increasing the number and types of surgeries we can do robotically," commented Dr. Good. Reston Hospital has established its reputation as the region's leader in spine surgery with its advanced technologies and excellence in patient care, and the Mazor X system continues that leadership in spine surgery. Dr. Christopher Good, Dr. Collin Haines, Dr. Michael Hasz, Dr. Donald Hope, Dr. Sean Jebraili Dr. Jae Lim, Dr. Thomas Mazahery, Dr. Ben Nguyen, Dr. Thomas Schuler, Dr. Brian Subach, Dr. Druv Pateder, and Dr. Joseph Watson, make up the outstanding spine team at Reston Hospital Center.
"As a leader in spine surgery, acquiring the Mazor X was a logical step for us to take" says John Deardorff, CEO of Reston Hospital Center. "Our Institute for Robotic Surgery is the most comprehensive in the Mid‐Atlantic region. Remaining at the forefront of surgical advancements is key to consistently providing our patients with the highest quality care. Our analysis of surgical guidance systems showed that the Mazor X system would further enable our surgeons to achieve the best possible patient outcomes."

For more information about Reston Hospital Center visit restonhospital.com.