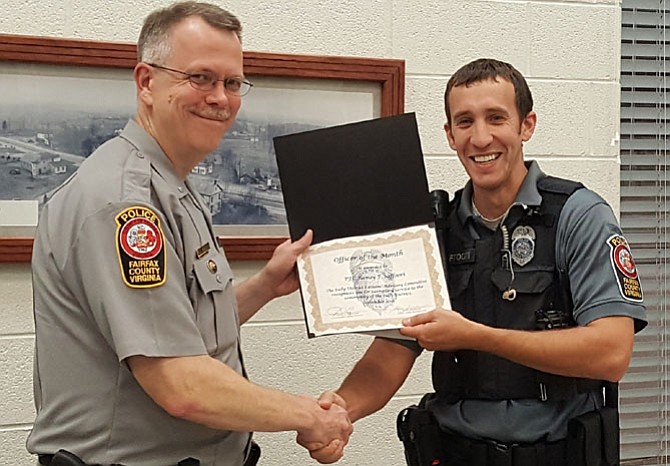 Centreville — PFC Ramsy Saffoori has been selected as an Officer of the Month for the Sully District Police Station. He was honored at a recent meeting of the station's Citizens Advisory Committee.
In nominating Saffoori for the award, Lt. Andrew Wright explained why the young officer deserves this honor. Wright noted that, while working on the station's midnight A-shift squad, Saffoori initiated a traffic stop of a driver for having defective equipment.
"During his interaction with the driver, Saffoori observed marijuana in plain view," wrote Wright. "The subsequent search of that vehicle revealed Xanax, hash oil and marijuana, with an additional quarter-pound of marijuana found in a secret compartment in the trunk." Wright said narcotics detectives then responded and helped interview the subject, who revealed the names of other dealers.
And things didn't end there. After being assigned to the Sully Neighborhood Patrol Unit (NPU), Saffoori continued working on the case, following up on those names. "Once again, a traffic stop was used to further the investigation," wrote Wright. "This vehicle was also found to contain marijuana, and PFC Saffoori was able to gain cooperation [from] the driver, who then spoke with detectives."
"During the time that this informant was working with Narcotics, Saffoori maintained contact with the assigned detective," continued Wright. "After multiple, successful controlled buys were completed with the illegal narcotics distributor, the assigned detective requested that Sully NPU attempt to stop the distributor on his way to the next deal and develop independent, probable cause for an arrest."
Saffoori and PFC Matthew Bell were able to stop the subject for littering after he threw his cigarette on the ground. Once in close proximity to him, they detected the odor of marijuana from his person and performed a search.
As a result, Saffoori and Bell recovered a quarter-pound of marijuana, cocaine and more than $1,200 cash from the subject. The assigned narcotics detective then continued to work with this new informant until he lost contact with him in August 2016.
However, Saffoori followed up on his behalf and was able to reconnect with this person. Doing so enabled the narcotics unit to execute a search warrant which culminated in the recovery of 70 pounds of live marijuana plants, 30 pounds of dried marijuana ready for sale and approximately $50,000 in cash.
"PFC Saffoori initiated this great police work through a simple traffic stop, and it shows how the patrol officer continues to be the backbone of the [police] department," wrote Wright. "His perseverance is an example for all officers, [illustrating] the difference they can make for the community through the simple actions which patrol officers perform every day. Saffoori is a dedicated employee and is very deserving of the recognition."